Navigating the work experience section of a CV can be tricky - do you include internships? Don't worry, we've got all your questions answered.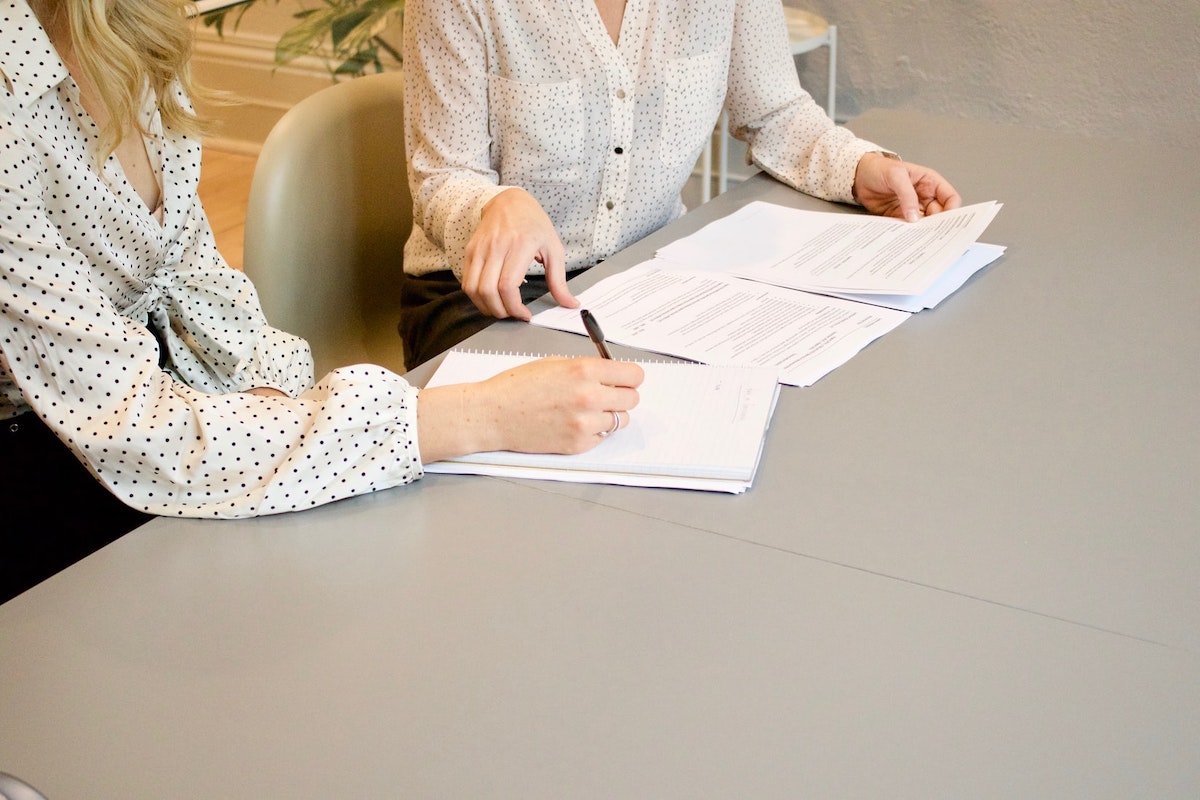 Ah CVs. Those tricky creatures. Trying to figure out what to include and what not to can be a nightmare, and when you don't think you've got the experience to back it up, it can be even more challenging.
And the previous employment history section is a minefield in itself. What happens if this is your first graduate job? Does work experience count? What about part-time jobs? Should I throw some rhetorical questions in there? (That one's a no).
We've put together a quick guide of top tips to answer all your questions, and make sure you're including the most relevant experience in order to impress those recruiters and grab that job.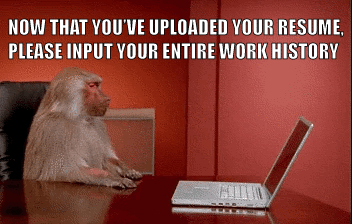 It's all about the structure
You can't just whack anything into your employment history, but you don't have to stress so much if you make it perfectly clear what each role consisted of. That means you're mot misleading the recruiter into thinking a work experience role was a full-time paid position or anything.
A handy way of doing it is with columns. For example, one column for the time frame you held the position, another for the role title and then another for further details. Here's an example you could try in your CV: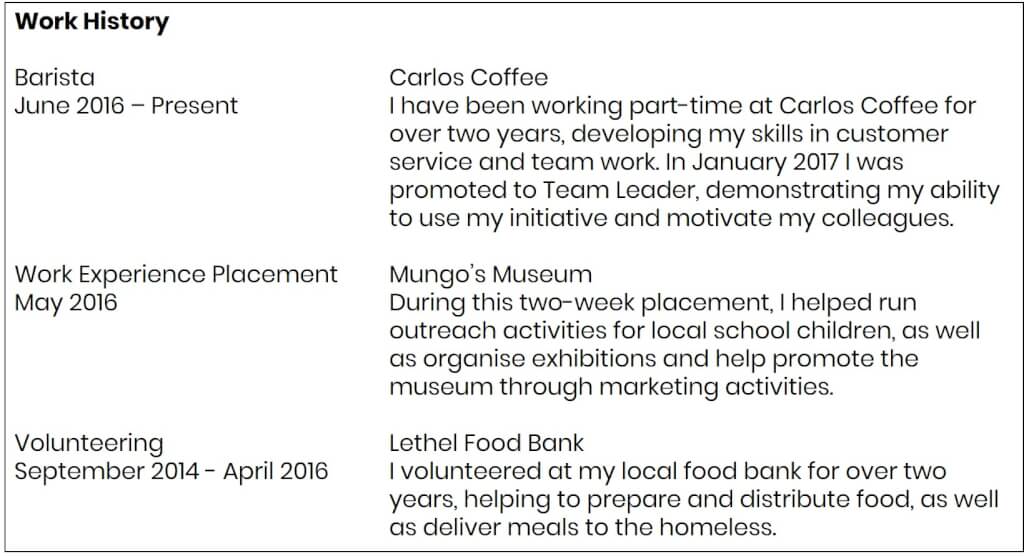 Part-time jobs
Ok, so you might think your part-time job in Primark on Saturday is totally irrelevant and completely uncool but it's definitely worth putting down on your CV. It shows you have the commitment to work a role over a long period of time, with professional punctuality and dedication – you would have been sacked if you turned up late everyday, right?
Plus, even if you think you spend most of your shift killing time, you're bound to have picked up some super useful, and very employable skills along the way. You might have dealt with customers on a regular basis, developing your communication skills and emotional intelligence, or you might have worked in a high-pressure environment, having to prove your adaptability by responding to new challenges when they arise.
Take a step back, think about what you've learnt from the job, and get it down on paper.
Internships
Well duh! If you've completed an internship (no matter if it it was paid or unpaid) this counts as previous employment history and should definitely be included here. internships are often one of the main things employers look for in a CV – they show you've had significant experience within a company (hopefully related to the industry you're wanting to get in to), and solid reference to go with it.
Remember to talk about specific projects you worked on and the results you helped achieve. Show how you made a significant contribution to the company, even if you were only there a short while, and how you were able to adapt yourself to the team and their business needs.
Work experience
This is the main thing people are often wary about putting in their previous employment history, fearing that it's not 'official' enough to count. Firstly… that's rubbish. Work experience, even if it was only for a week or a few days, is definitely worth putting in here.
It's all about how you demonstrate what you learnt from the experience, and what you contributed to the organisation during your short time there.
Even if you felt like you were only making tea and photocopying (don't worry, we've all been there), if you really think about it you should be able to pick out some skills that you developed. Any experience in a real-life work place, such as shadowing employees and participating in team meetings, is all really useful stuff that tells an employer you know how to act professionally in the work-place and make an impression.
Volunteering
I would normally suggest putting volunteering in your 'Hobbies and Extra-curricular Activities' section, but if you're running a bit low on previous work experience, you might want to pop it in here. Just remember (going back to my first point), you need to make it explicitly clear that this was a volunteering role and not a paid position.
It's all about how you show that the work you did is relevant to the role you're applying for. You may have just been volunteering, but how did you develop skills that you can apply to a paid role in a workplace? Especially if you have stuck out a volunteering position over a long period of time, this shows dedication and passion for the cause (and not the monetary incentive), something that employers are definitely interested in.
Go skills-based instead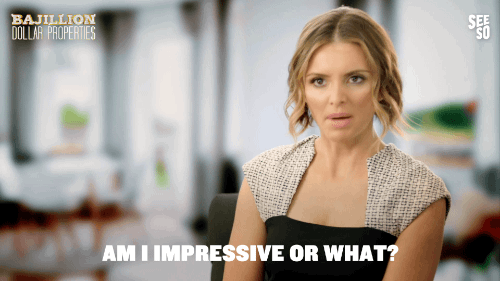 Finally, if you're really struggling to find enough previous work experience to fill this part of your CV, you might want to try a completely different CV tactic altogether. Instead of focusing on your previous employment history, structure your CV around your skills instead. This means that instead of listing previous roles and then using these to demonstrate the skills you developed, you start with the skills, and then talks about what roles/activities helped you to develop these skills.
So for example you could take a mixture of hard and soft skills – coding, data analysis, leadership, emotional intelligence and communication – and write a short paragraph on each describing instances when you have used these skills, and any roles which have helped develop them.
Although skills based CVs aren't as common as those based on your previous employment history, they're particularly useful if you're making a career change into an area you don't have much previous experience in. You want to show you have the skills to apply to the role, even if you don't exactly have the hands-on experience. Here's an example of what it could look like: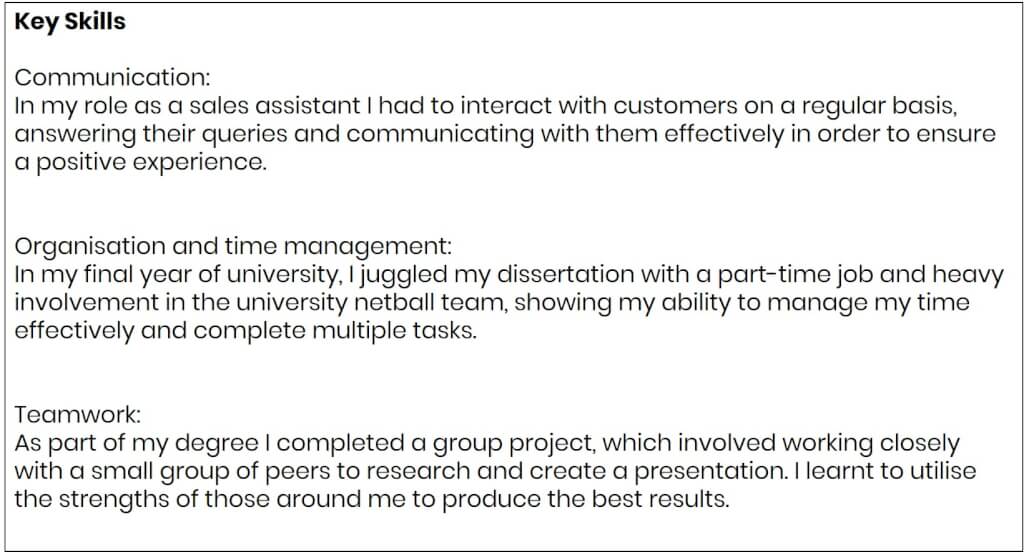 So there you have it! The number one lesson here is not to stress if you don't think you have the right level of previous employment history – don't be afraid to use whatever experience is available to you to demonstrate your skills, just make it clear exactly what that roles consisted off.
Connect with Debut on Facebook, Twitter, and LinkedIn for more careers insights.