It happens to the best of us. Final year kicks off, your dissertation consumes you, and all you can look forward to the breather after your last exams. Then, suddenly, pint in hand comes the realisation – you're going to need a shiny new CV for all…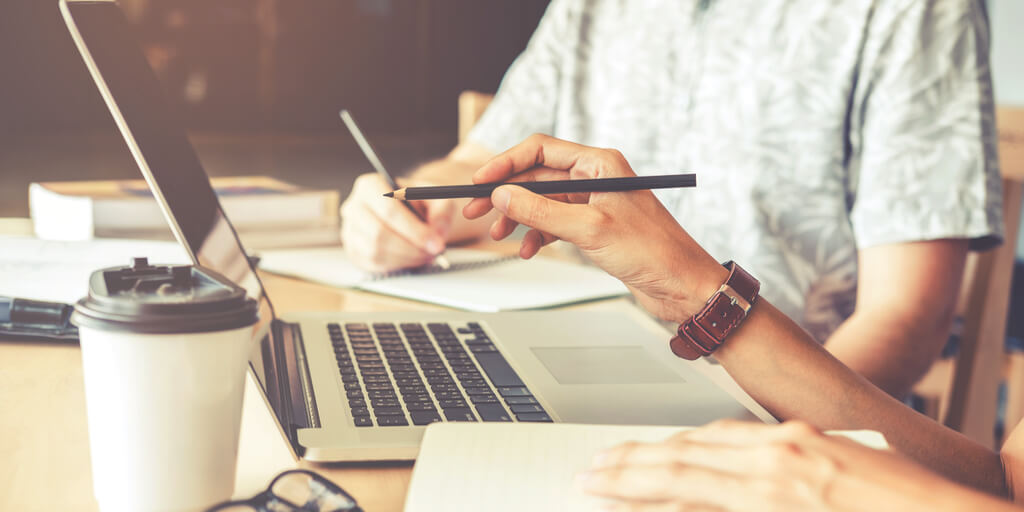 It happens to the best of us. Final year kicks off, your dissertation consumes you, and all you can look forward to the breather after your last exams.
Then, suddenly, pint in hand comes the realisation – you're going to need a shiny new CV for all those jobs you've told your parents you're applying to. Unfortunately, that Word document you used to get a job at the union bar last summer isn't going to cut it.
But, while it might take a couple of hours to wrangle your CV into shape, the good news is it won't take any extra human lifting to get it polished up. And, if you'd like some hand-holding to guide you through it, here's our step by step rundown on how to write a CV for retail jobs.
Getting The Basics Right
Whether you're applying for a job in retail or something else, there are some basics that apply to pretty much any CV. And the basics are as good a place to start as any – here's what to look out for.
Make Sure It All Fits On One Page
We've seen a fair few CVs in our time here at Debut, and sometimes even we're shocked by how long some of them are. While it can be tempting to try and cram as much information as possible into your application the reality is that it's a tactic that will only backfire.
Retail graduate schemes are a competitive landscape, with some reports saying just seven percent of graduates manage to snag a job straight away – so it pays to think about what hiring managers want. In a nutshell, they want it to be concise – some recruiters claim they'll only look at your carefully crafted resume for a mere seven seconds.
If you're struggling, write the whole thing out in full and then ruthlessly attack it with a red pen. Yes, just like your teacher used to do to your English essays. Weigh up what's most relevant to the retail job you're applying for and don't be afraid to cut back on information around your GCSEs, the paper round you had when you were ten, or the badge you got in the scouts.
Personalise Your CV For Every Single Job
So, you might have thought you could dive into this piece and sort your CV out once and for all. We're sorry to inform you that this isn't the case. While it's helpful to have a big master CV you can dig out each time you're applying for a job, retail hiring managers are looking for people who've thought about how they fit the job in question.
Look through the job advert and highlight any key phrases, skills, or buzzwords and then workshop which areas of your work experience could fit the bill. Again, it's all about making it easy for the person who's looking through your CV, so try to use the same words and tone they use from the advert.
It doesn't matter where your skills come from, so don't panic if you don't have endless experience. It's just as valid to say you learnt about managing people while managing the hockey teams as it is working as a volunteer manager.
Keep Focused On How You Can Help
We mentioned earlier how little time managers will spend looking at your CV, but the implications of that stretch wider than just keeping things to one page. The main mindset most graduates need to get over is that a manager isn't necessarily looking at your ambitions or where you'd like to work – they're looking for people who can make their lives easier.
From the profile section in your CV to the last line of your cover letter, everything you write should be focused on what they're looking for and the skills they need in their team. In practical terms, this means not writing essays about how working at Boots was your childhood dream, or that it's the stepping stone to where you want to get too. Instead, you should be talking about how you could help the company grow and improve.
Don't be afraid to talk about how you could help them make improvements either – sure, a huge takedown on the company probably isn't wise, but if you've got skills in email marketing and their newsletters could do with a refresher, tell them what you could bring to the table.
Showcase All The Times You've Achieved Or Learnt Things
When you're writing bullet points for your degree and other pieces of experience, it can be tricky to know they want to know. The thing is to avoid the biggest pitfall of just listing things you did. Of course, it's vital for retail managers to understand the role you played in a team, but what they really want to know is what you achieved or learnt as a result.
For example, anything involving numbers is a good chance to show a result. Perhaps you brought in the most cash at a fundraiser, grew engagement on an Instagram account, or increased readership at your student paper. Equally, think about how certain tasks helped you grow – for example, organising fixtures for the netball team could have taught you valuable organisation skills. It might sound obvious, but spell it out clearly.
Think About What Retail Bosses Are Looking For
Once you've got the basics covered, you're already 90 percent of the way there. It's just about really honing in on the skills you need in a graduate retail job. While we'd always advise looking at each job advert individually, we had a nose around a few to give some common examples:
That You Know How To Manage People
Especially on retail management schemes, one of the biggest requirements is actually being able to manage people. As a store or area manager, you'll be detailing with a whole range of people, some of whom may be older than you or have worked in the industry for longer, so it's vital to be both confident and diplomatic.
Retail graduate jobs will want to see examples of where you've done this in the past, but that doesn't mean you have to have had a paid managerial position. For example, you could say:
That you held a committee position for a society or held an elected SU role,

That you led on an important piece of group work as part of your degree,

That you were a manager, supervisor, or even led shifts in a part-time job,

That you helped run volunteer events, such a varsity or open days.
Whatever it is, they'll be looking for you to talk about the specific examples. Think about skills you might have been forced to learn as a result, such as dealing with individual disputes, motivating a team, delegating responsibility.
Interacting With The Public & Customer Service
Even if your job will never involve you working on the shop floor, the whole of retail works around the idea of selling to customers, and meaning there are points to be cashed in if you've got experience of working with the general public.
More widely it's about having good communication skills – you need to be a people person who's able to empathise with others and get messages across clearly. For example, you might want to draw on experiences like:
Working as a fundraiser, either on the phone or in person, and convincing people to part with their cash,

Having a part-time job where you directly sold things to the public, perhaps in a bar, clothes shop or restaurant,

Convincing people to give you interviews for your student newspaper, TV station or radio.
Again, they'll be looking for you to pinpoint specific examples where this has come into play – and what you've learnt as a result. If you're finding yourself getting lost in a maze of words, it can be helpful to have a bullet-pointed list of the skills you're trying to hit open at the same time.
Commercial Awareness
As well as dealing with the public, the other part of a retail job is knowing what they're most likely to want to buy – and being able to convince them that they want too.
Commercial awareness is a big deal in retail grad jobs – it doesn't just mean having a sense of trends but also knowing the wider landscape. They'll expect you to know what their brand stands for, where they position themselves in the market, and who their main competitors are.
This is probably one of the trickier qualities on our list to shoehorn into your previous experience, but there are still plenty of ways to give yourself a head start.
Reading The Industry Press
Trust us when we say that whatever the sector, there will be a publication about it. Heck, there's even a whole feature on Have I Got News For You dedicated to niche publications. But, japes aside, getting up on the industry press is a great way to get a sense of the market both now and where it's headed in the near future.
The Grocer, for example, covers all independent food retailers, while The Morning Advertiser covers all things beer, pubs and hospitality. And yes, you can count reading Vogue and Grazia as research for the fashion sector. You can get a more general look at the sector on websites such as The Retail Gazette, Retail Week, and RetailWire.
But, just to make it clear, we're not suggesting you name drop a load of publications you've read once. Use what you learn to help shape your cover letter by talking about changes that could be coming to the sector and how you'd tackle them, for example.
Knowing Your Stuff As A Consumer
Yes, this is the part of the article where we tell you there's a benefit to spending your student loan too quickly, but don't quote us on it. The reality is that all of us are consumers, whether we like it or not, and if you're actually really into a specific sector, use your knowhow.
In the same way reading the industry press can help you get a handle of things, solid love of fashion, tech, or high end food could stand you in good stead if you're applying to a graduate scheme in the same sector.
It isn't one you can fake, but if you have been immersed in the industry for a while, take ten minutes before starting your application to map out how you feel the industry has changed during the last five years, and how you feel you've changed the way you shop. You can use these themes to help create a cover letter and profile that shows off your insider knowledge.
Talk About Your Own Competitors
Finally, if you're involved in any sort of university society or club, it's never too late to think about benchmarking. In short, it's the process of looking at your competitors and seeing what their strengths and weaknesses are compared to your own. The journalism society might be seen as a great place to socialise for example, but the student newspaper is seen as a better stepping stone to a media job.
Showing that you're able to evaluate an organisation or situation and then take action as a result of it is a key part of working in retail and it's really easy to do at a society level. For example, in the case above, you might say you decided to advertise more strongly at careers fairs as a result of your competitor analysis, which led to a glut of new writers.
An Ability To Get Stuff Done
Finally, and most crucially, retail graduate jobs are looking for people who can get things done. It's a fast-paced and often high-pressure environment, so they'll want to know you can cope under strain and have a focus on results.
Whatever pieces of experience you're listing, think about how you managed to improve things or the end goal you had in mind. It could be as simple as getting more people to read your department's blog, simplifying the booking process for socials, or starting a new monthly report of your society's spending.
Focus On What You're Strongest At
To close, it's worth adding here that absolutely no one will be ticking all of these boxes. Not only will retail jobs not expect you hit everything straight off the bat, there simply isn't enough space on a one page CV and cover letter to talk about it all.
The crucial thing here to know what the job demands and work out where you're strongest. From there pick out some key examples to talk about in-depth – managers want to see that you've really dug into your experience rather than simply saying you tick every box.