Coffee shops or co-working spaces are a God send for students looking for somewhere new to work. Here's our round-up of the best cafés you can work from both as a student or a freelancer in London.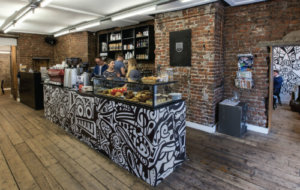 This post was written by an external contributor. Aayushi reveals her top picks of coffee shops to study and work from in the capital.
We've all been there. You're sitting at home, probably watching Netflix or playing FIFA when you suddenly realise that you have another deadline, or you're in a situation where you've procrastinated so much that all your work has piled up. Now, as much as you would like to work from home, you know the comfort of your bed or having the kitchen right outside your room means you probably won't get as much done as you like.
To try and be productive you've attempted working in the library, but you might be like me where you've spent hours on end in that building during exam period and have reached a point where you just cannot focus in the space anymore. You might have even tried working in a random computer room on campus, but this is still unproductive. It's completely understandable that every once in a while you need a change in environment so you can get your work done.
For this reason coffee shops or co-working spaces are probably the next best option. In order to save time and effort of researching which places you can be productive, I went on a little trip around London and have compiled a list of incredible cafés you can work from, both as a student or a freelancer.
Timberyard – Covent Garden
In my opinion, Timberyard is the ideal spot to work if you are looking for a change of venue. As well as having lots of space and a strong internet connection, the staff are extremely friendly and will even provide you with a complimentary bottle of water. Their basement has space for meetings, but is also ideal for people who want to put their earphones in and zone others out.
Conveniently located in Covent Garden, this café has everything a student, a freelancer or even someone looking to have informal meetings might need. I would suggest arriving early in the morning to grab a good spot as it can get relatively busy, especially around lunch time.
Opening Hours: Monday – Friday 8am – 6pm // Saturday 9am – 6pm // Sunday 10am – 6pm
Address: TY Seven Dials, 7 Upper Saint Martin's Lane, London WC2H 9DL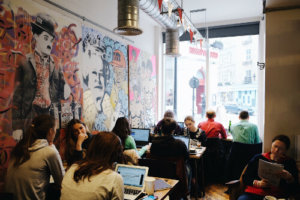 Hanbury Hall – Shoreditch
Located in Shoreditch, Hanbury Hall is definitely in my top pick of places to work from. It's extremely well lit, quiet and the coffee is amazing. The staff are kind and don't disturb you, making it the ideal place to get work done. Not to forget there is student discount with a valid student ID. Just make sure you double check that there's no event running!
Opening Hours: Monday – Friday 8am – 5pm // Saturday 10am – 5pm // Sunday 12am – 5pm
Address: 22 Hanbury St, London E1 6QR
Caya Club – Brixton
Also in my top list of workspaces, Caya Club has everything you need to be productive. You pay ВЈ2 per hour and get unlimited single origin batch brew coffee or tea (YAAAAAS!). Besides this pay-as-you-go service, if you intend on sitting at the coffee shop for longer periods of time, you can also get the ВЈ15 per day or ВЈ180 per month membership.
The venue has a dedicated co-working/study space Monday to Friday, whilst during the weekends visitors are free to work anywhere in the venue. This café is also ideal for people who intend on holding informal meetings due to its great atmosphere. Furthermore, it also has all the necessities including lots of power sockets, strong WiFi, great lighting and even print facilities!
Workspace Opening Hours: Monday – Friday 7:30am – 5:30pm
Address: 344 Coldharbour Ln, Brixton, London SW9 8QH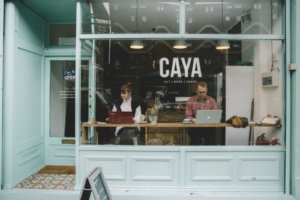 Department of Coffee and Social Affairs – Farringdon
If you're a fan of brick walls and quirky decor, Department of Coffee and Social Affairs is the place for you. With extremely friendly staff, availability of power sockets and strong WiFi and delicious beverages, I would recommend anyone who is based near Farringdon to definitely check the café out. The bright yet cozy atmosphere makes it the perfect place to work and socialise. In addition, there are also several other branches located across the city (as well as the country!), so be sure to check the locations that are most convenient for you!
Opening Hours: Monday – Friday 7:00am – 5:30pm // Saturday 9:30am – 4:00pm
Address: 14–16 Leather Lane, London, EC1N 7SU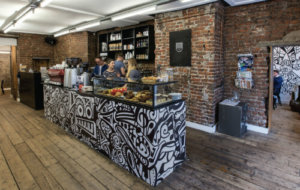 Download Debut and connect with us on Facebook, Twitter and LinkedIn for more careers insights.