Deciding whether or not to apply for an internship, or if an internship is the right path for you, can be incredibly hard. We're here to make understanding internships all the easier with our ultimate guide.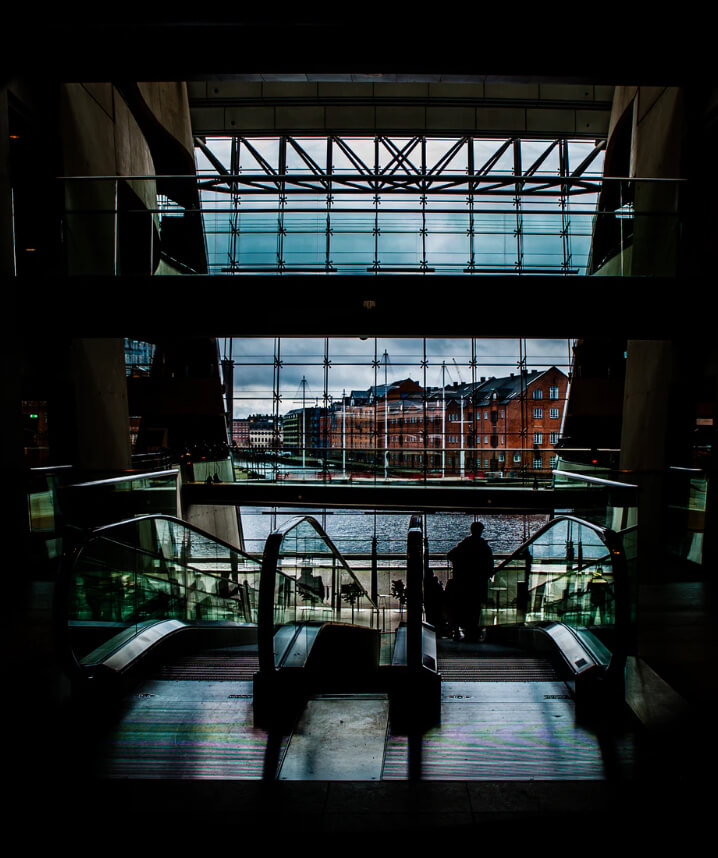 1

What is an internship?

When thinking about internships, most people think about the money side of things (if they're paid or unpaid), when they fall (summer, over a few months or even more) and the application process. We'll cover all these topics in good time – but first things first.

An internship is a position taken up (usually) by a university student or recent graduate within an organisation. It is an opportunity to work for a firm on either a paid or unpaid basis for a set period of time – this can be for as little as one week to a number of months, and sometimes even a full year.
Internships are offered by a number of employers across numerous industry sectors, so there's plenty of choice for everyone – law, media, engineering, tech, finance, medical, advertising…
They are offered by a number of employers across numerous industry sectors, so there's plenty of choice for everyone – law, media, engineering, tech, finance, medical, advertising… You name it. They are also often offered at specific times of year, for example spring, summer and winter placements, or they can be longer stints of six months or more.
Basically an internship offers you the chance to work within a specific department in an organisation to get a feel for the culture, gain experience, learn new skills, receive training and gain invaluable insight into how a business and industry operates. All pretty useful perks.
2

So why apply for an internship?

Let us start by saying an internship isn't necessarily for everyone. They can be long and not all of them pay (we'll get to that later). A lot of employers or organisations offer shorter work experience opportunities that may well suit you better, so it's important to 1) think about your chosen career path, and 2) consider other options.
An internship offers you the chance to get a feel for the culture, gain experience, learn new skills, receive training and gain invaluable industry insights.
With that in mind, however, internships do offer so many fantastic opportunities – hence why they're so popular (and why there are so many myths surrounding them!)
Here's the lowdown on why to apply for an internship:
It's a fantastic networking opportunity.
The old adage is true – it's not what you know, it's who you know, and undertaking an internship is the best way to build industry connections. Be friendly, communicative, and don't shy away from helping with the tea round – trust us.
You'll also gain experience.
Along with new connections you'll also gain some fantastic experience in your chosen field that will help you with future applications.
You'll walk away with transferable skills to add to your CV.
Experience is one thing, but direct, transferable skills are another. Make notes of what you do while at your internship and add them to your CV.
You can't beat the three I's: Invaluable Industry Insights.
There's nothing quite like getting 'in' with a company to get a sneak-peek at how a business and an industry sector as a whole works. This knowledge will serve you well in the future, so remain observant while on the job.
Future job opportunities.
This links back to the first point about making connections. If you're able to make a positive impact during your internship (remember what we said about the tea round?), you'll be in a much better position to be selected for interview when it comes to applying for full-time work.
So now you know the 'what' and the 'why', it's time to get specific.
3

What are the different types of internship?

As stated previously, there are loads of different internships you can undertake. They can be long or short, paid or unpaid, and generally occur throughout the year. With this in mind, researching the most appropriate form of internship for your career goals is essential.
Seasonal internships
These are, as the title suggests, internships that run at specific times of the year. They usually tie into the academic terms, so occur in either winter, spring or summer, and correlate with the respective holiday period.
The most popular are summer internships. These run for four to twelve weeks over the summer holidays and can be either full or part time, paid or unpaid. They are most popular with students or recent graduates as they are usually unencumbered with other work (for example exams or essays).
Because of this, however, there is often a lot of competition for summer internships and the application process can be long, but we've got your back – if a summer internship is for you, read on for information on how to really nail your application.
Six-month internships
Again, the title is fairly self-explanatory. What six-month internships offer that short, seasonal ones don't is a better opportunity to make a mark on a company and (fingers crossed) walk into a job at the end of it. It does require some extra work, however; be sure to put yourself out there and help out with various projects during your stint. Push yourself.
If you make a good impact on a company within just six months of interning, you are far more likely to get that recommendation, be put forward for a role or kept on file for any future opportunities.
Internships abroad
If you're feeling extra brave, undertaking an internship abroad is a really fantastic way of standing out in the future when it comes to job applications. Many companies with a global presence offer international placements, and they are a wonderful way of expanding your international network, enhancing your cultural awareness and gaining a competitive advantage over your peers.
These aren't offered by every company, and also won't be suitable for everyone as they will, naturally, require relocation and the additional costs that entails. But being able to overcome potential language barriers and cultural differences will really stand out on a CV, so don't rule it out.
Paid vs unpaid
The issue of whether internships should be paid or unpaid has been in the news for a while. According to HMRC, an intern's right to be paid swings on whether they're classed as a worker, volunteer, or employee.
There are some very subtle differences between the three, but generally speaking you cannot necessarily expect to be paid as an intern if:
– You are required to do an internship for less than one year as part of your course
– Your internship involves only shadowing an employee
– You are interning for a charity or non-profit organisation
If these conditions do not apply, however, then you may be entitled to minimum wage. Most UK interns are classed as 'workers' and are therefore entitled to payment; so if you have the following, make sure you are given what you're due:
– Set hours
– Set duties or responsibilities
– Are promised a contract of future work
While money is a difficult subject to broach, don't be tricked into thinking that just because you're an intern you're not due some reimbursement. Think about how long you're there for, the size of the company and what other paid opportunities there are – and if you're still not sure, read our Insight article on unpaid internships for more guidance.
Don't be tricked into thinking that just because you're an intern you're not due some reimbursement.
4

How to apply for an internship

Now you've deciphered what an internship is and decided on the one for you, it's time to actually apply for one (don't worry, we'll talk you through it).
Research
Think specifically about what you want to get out of your internship – how hands on do you want it to be? What industry sector would you like to specialise in? What company do you think aligns best with your values and where do you think you would be best suited?
Spend time speaking with university careers advisors, researching online and speaking with your friends and peers to determine a shortlist of suitable positions to apply for. You should also aim to do this a good six months or more in advance of when you want to start, to ensure you are well aware of all application deadlines.
Keep track
Applying for an internship is similar to applying for a job and should be treated as such. You need to stay focused and dedicate your full concentration to each application, as the competition for each spot is fierce.
It's good practice to create a spreadsheet keeping track of every opportunity you've expressed an interest in, what the application requirements are and how far through the process you are. Below is a basic example of what this could look like: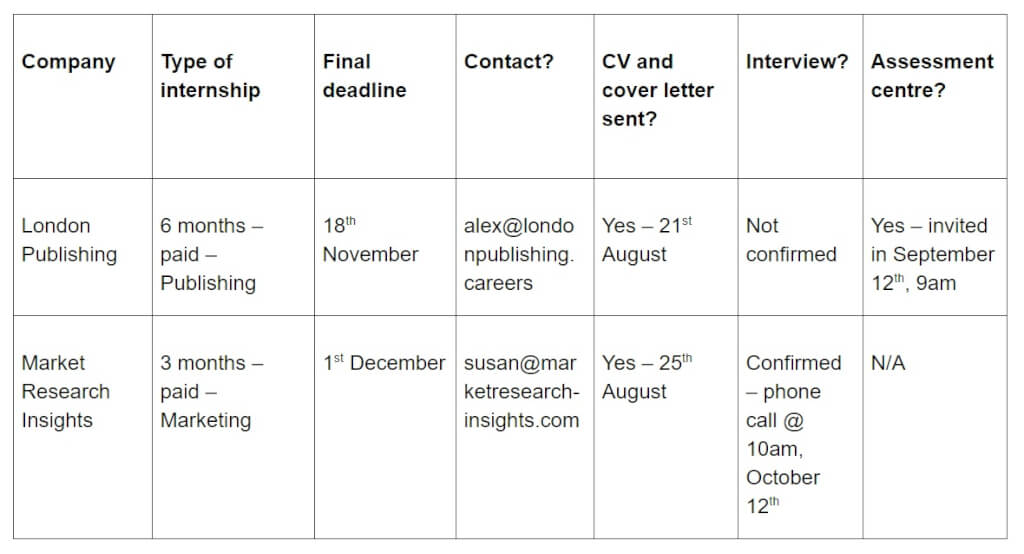 Tailor your CV and cover letter
Along with the above it's also good practice to have a master CV and cover letter that can be used as the basis for any application, and tweaked to better align with the requirements of each role.
Analyse every role you're applying for, as well as the mission and values of the company in question, to ensure your CV and cover letter is the best fit. Don't forget to read our guide on tackling job applications for more information on how to best do this.
If you don't hear back, don't be afraid to request feedback. It's impossible to think students and recent graduates will be able to excel in what is a competitive market without constructive criticism, so be sure to ask and also sign our #FightForFeedback campaign to help others in a similar situation.
5

The internship recruitment process

There can be a number of different methods companies use when deciding who to hire onto an internship. Because they are so sought after and highly competitive, the hiring process can be tough and businesses are incorporating more stringent hiring processes.

Below are a few examples of the types of recruitment methods businesses will often use:
Online applications
The first stage is often an online application; this will require you to fill in some basic information about yourself and answer some extra questions about why you want the internship and think you will be a good fit.
Online assessments
This may well follow an online application. Assessments such as skills and abilities tests, and potentially even cognitive assessments, may be used. This will help strengthen your application if you are able to demonstrate the key job skills and personality traits they are looking for.
Interviews – video, phone or face-to-face
There will almost always be a face-to-face interview for an internship position, but there may be a video or phone interview preceding that.
A phone interview will usually be first and can be informal – more so than a face-to-face interview, anyway. This will take place at a pre-agreed time and usually won't be any longer than 30 minutes. This is simply a cost-effective way to screen for weaker candidates.
A video interview is slightly more formal, so be sure to dress for the occasion and clean up your work space.
Finally, a face-to-face interview is almost guaranteed. These may be one-on-one, as a panel or in a group with other applicants. Whatever the scenario, use our 'Types of Interview' guide to help prepare.
Assessment centres
This is also often part of the internship recruitment process and usually takes place towards the end. Assessment centres usually consist of a day where all successful applicants to this point partake in a number of different tasks, such as group exercises and presentations to showcase their skills, leadership abilities and knowledge.
This will generally take no more than one day, and may be followed by a final interview with a recruiter.
6

How to ace your time on an internship

Once you've been accepted onto an internship, don't be afraid to get stuck in:

Be conversational – don't be shy but instead start to make professional connections.

Be eager to learn – take on any and all tasks that come your way. Be honest about your experience, however, and offer help where you can.

Engage with everyone – don't feel that just because you're an intern you can't speak to the big boss; make an effort with people from every level.

Take the opportunity to lead – where you can, grasp this opportunity. Lead a mini-project or spearhead one section of a larger task to make a real impact and show your leadership skills.

While the above will no doubt help you stand out within the company in question, if you're unable to secure a full-time job there you need to know how to leverage what you've learnt and the contacts you've made effectively in the outside world.

Say thank you and remain in contact – remember that the contacts you make may be highly important for your future.

Add people on LinkedIn – start building your professional network; you'll be surprised at the number of connections that come up.

Work on building your personal brand – remember, once an internship ends you still need to find a full-time job at the end of it, and the saying is that people buy people.

Update your CV with everything you did and learned – take stock of what you did and ensure relevant elements are added to your CV.

Begin searching for jobs – now your experience is fresh in your mind, and new connections are coming in on LinkedIn, check out what jobs are out there and apply.

Once you have all the above in place, you'll be fast-tracked to internship success. Good luck Debutants!