Black and Asian students are consistently applying for more jobs than their white counterparts 2020 saw movements across the world push for racial equality. From marches in the streets to new initiatives being introduced by many companies to increase diversity and improve equality within the workplace. Alongside this, the global…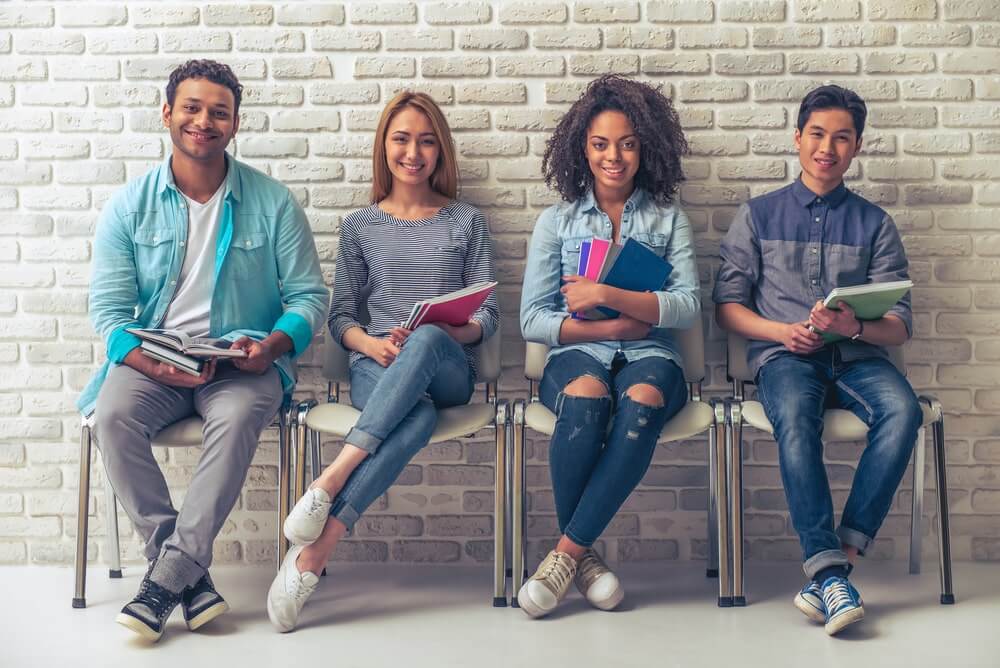 Black and Asian students are consistently applying for more jobs than their white counterparts
2020 saw movements across the world push for racial equality. From marches in the streets to new initiatives being introduced by many companies to increase diversity and improve equality within the workplace. Alongside this, the global pandemic has seen millennials worry about job prospects and Gen Z struggle with their wellbeing. Last year, we published a report that showed that BAME students were applying for 45% more jobs than their white counterparts. We contemplated whether this was a reaction to bias and that black and ethnic minority people were being proactive in trying to mitigate this.
We wanted to take a look back over the stats from the last year and find out whether there's been a change in this or not. Are people from black and ethnic minority backgrounds still applying for jobs at a higher rate, is there a difference between ethnicities and does gender come into play at all?
Black or Black British Students are applying for 38% more jobs than white students
Based on data from our own system, we can see there's quite a striking difference between black or black British students and their white counterparts. Not only are they applying to a few more jobs, but they're applying to a full 38% more.

In a year that has really highlighted how far many feel we have to come for society to be more equal, what does this mean? We highlighted many of the reasons last year, including tackling bias, and a desire from parents to see their children work that much harder than others.
Kim Connor Streich, Marketing Director from Debut says:
"There are likely to be a number of current and historical factors in play here. The pandemic has seen people from different Black, Asian, and minority ethnic communities hit the hardest, and with that will come to worry and a desire to firm up future prospects. Couple this with a potential feeling that you need to be proactive and apply for more jobs to tackle bias and you can see why many may be applying for more jobs.

"Blak, Asian, and minority ethnic groups, while often referred to as one entity are, in reality, a number of vibrant groups with their own societal pressures and driving forces. Many from these different groups may simply be using a proactive approach to tackle bias, both conscious and unconscious. They may also come from families with a lot of pressure from their parents to succeed, giving them a strong work ethic.

"Alternatively, they may find that opportunities which fall into the laps of their white counterparts just aren't coming their way, so they're having to apply for far more jobs before they get the roles they desire."
Asian or British Asian students and other ethnic groups also applying at a much higher rate
While black or black British students were well out in front, other people from minority backgrounds were still applying at much higher rates than white students. Our data shows that Asian or British Asian students are applying for 26% more jobs than white students, while other ethnic groups are applying to 21% more.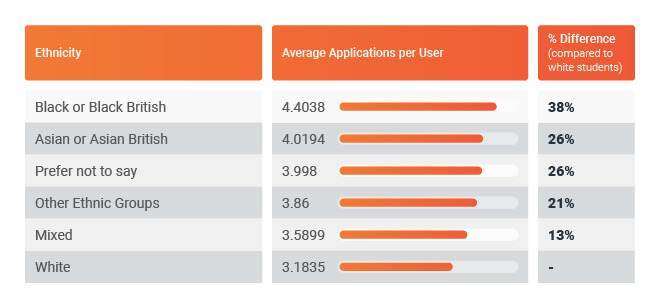 This further highlights the disparity between the groups, with Black, Asian and minority ethnic students feeling the need to apply for significantly more jobs. Whether it's down to combating bias, a higher work ethic or a lack of connections, they obviously feel that they need to apply for more roles to find the job they need.
Black or black British males are applying at 40% to more jobs than white males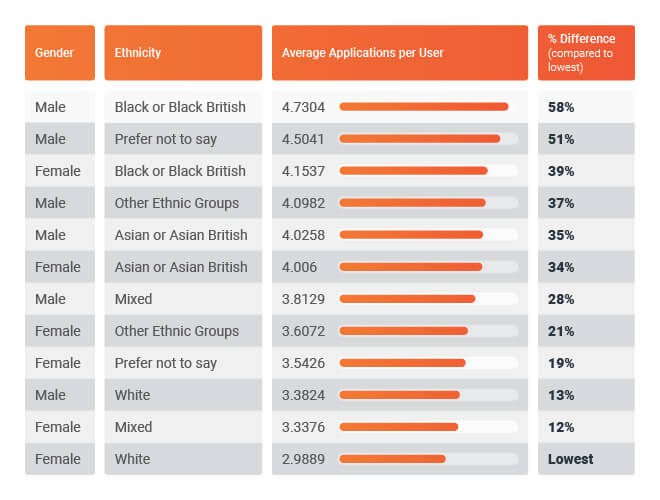 While our figures have been fairly consistent from year to year, there's been a closing of the gap of sorts when it comes to black or black British males vs white males. Last year we reported that they were applying to a full 75% more jobs. In 2020 it's come down to 40%, and while that's a big drop compared to the year before, it's still a significantly higher rate and not something to be ignored.
Debut is here to help
While we know that universities are seeing record numbers of diverse students attending, there's obviously a reason that people from black and minority ethnic backgrounds feel the need to apply for so many more jobs. Debut Careers are here to help you find the perfect graduate job. We understand what it takes to help get graduates in front of the right employers.