The skills that employers are looking for in 2021 There are some skills that are very specific to the job that you're applying for and others that still stand you in good stead no matter what line of work you're in. But what are the main skills that are…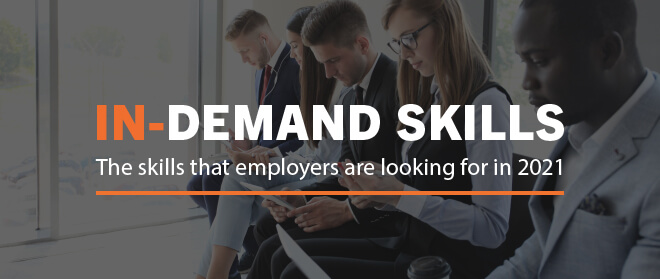 The skills that employers are looking for in 2021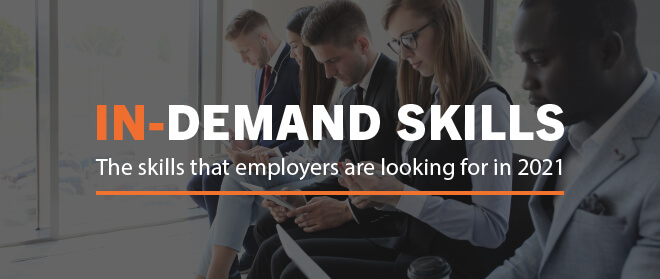 There are some skills that are very specific to the job that you're applying for and others that still stand you in good stead no matter what line of work you're in.
But what are the main skills that are going to get you hired in 2021? We analysed thousands of job listings here at Debut to see what are the things that employers are looking for the most when it comes to new recruits.
So, what did we find? Well, while specific grades in your degree maybe aren't as important as they once were, and shouldn't rule you out of getting most jobs, we found that 308 graduate job listings specified that they required a 2:1, compared to just 74 for a 2:2.
But which were the most sought after skills?
The most in-demand 'soft' skills
The kind of skills that employers are after are often split into 'hard' and 'soft' skills, and it's important that you possess a blend of both.
Soft skills are more general abilities which can be applied to most jobs, such as communication and leadership, but which are the most sought after?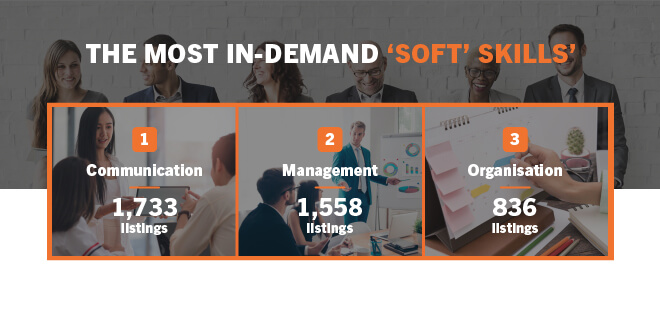 Communication – 1,733 listings
The number one skill that employers were looking for the most (across both soft and hard skills) was communication.
Whether that's verbally, or written, effectively getting your message across clearly and concisely is clearly vital in any workplace.
Not only this, but it's important to be able to tailor your message depending on who you're talking to, whether it's your boss, colleagues, or a client.
Management – 1,558 listings
In second place, was management. Even if you're not applying for a management role, or maybe even have no desire to become a manager in the future, it's clearly still an important trait.
Even if it's just amongst your own small team, you need to be able to motivate others and ensure that everyone is working together effectively to meet your collective goals.
Whether that's assigning or delegating jobs or even just setting your own deadlines and managing your workload, you can always lead by example.
Organisation – 836 listings
Making sure that you can prioritise your workload and work as efficiently as you can is something that is valuable in any career and something that many employers are on the lookout for.
It's always good to show your employer that you can identify what tasks are more or less important than others and complete them within tight deadlines.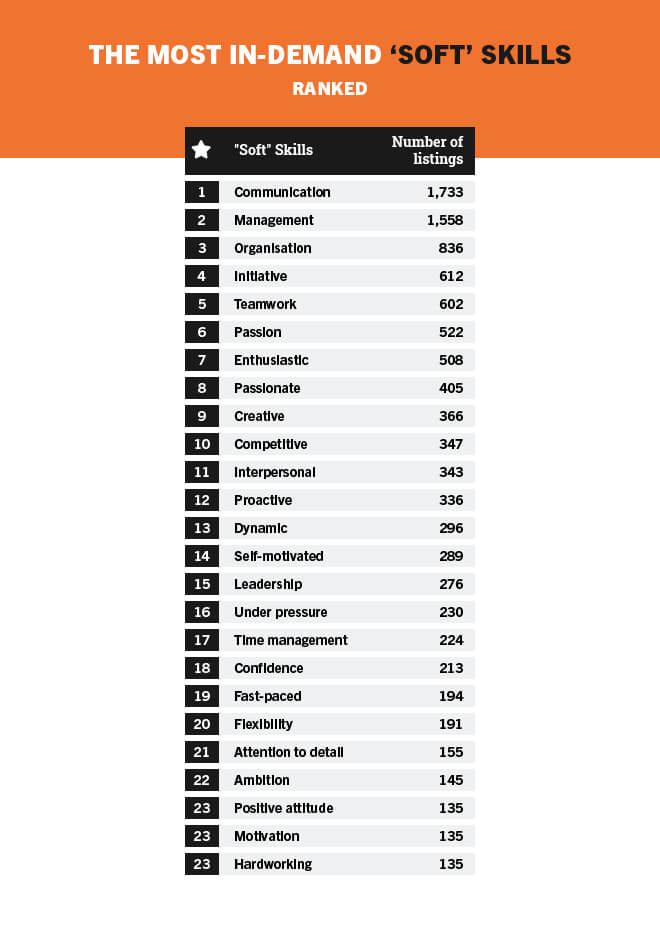 The most in-demand 'hard' skills
Hard skills are more technical types of skills which can be more easily measured and will likely be more tailored to the actual job that you're applying for. Thankfully, they can also usually be taught, but here are the types of things which employers are looking for.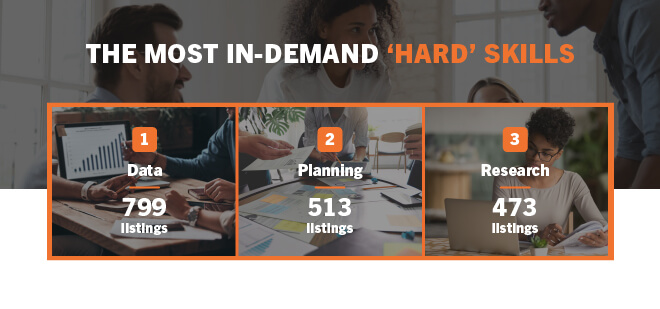 Data – 799 listings
While the term 'data' itself is quite a broad one, the fact that it appears in almost 800 job listings on our site suggests that being able to work with data is a very important skill in today's job market.
More and more jobs require to compute large quantities of data, whether that be numerical or text-based, and even if you aren't going for a particularly data-driven role, the majority of businesses use it to back their decisions these days.
Planning – 513 listings
While it crosses over with soft skills like management and organisation, being able to effectively plan is also an important specific skill of its own, whether that's developing long-term strategic plans for your clients and organisation, or just showing that you can plan your own time and tasks, and that of others in your team.
Research – 473 listings
Again, while researching might seem quite specific to certain roles, it is something that can be applied to most workplaces, as seen by the fact that it was the third most desired hard skill on the site.
Whatever job you're in, you're going to be required to find answers to questions, whether that's finding new clients or suppliers to work with, finding the best tools to carry out your job, or looking for new ways to drive new business or work more efficiently, it all requires research!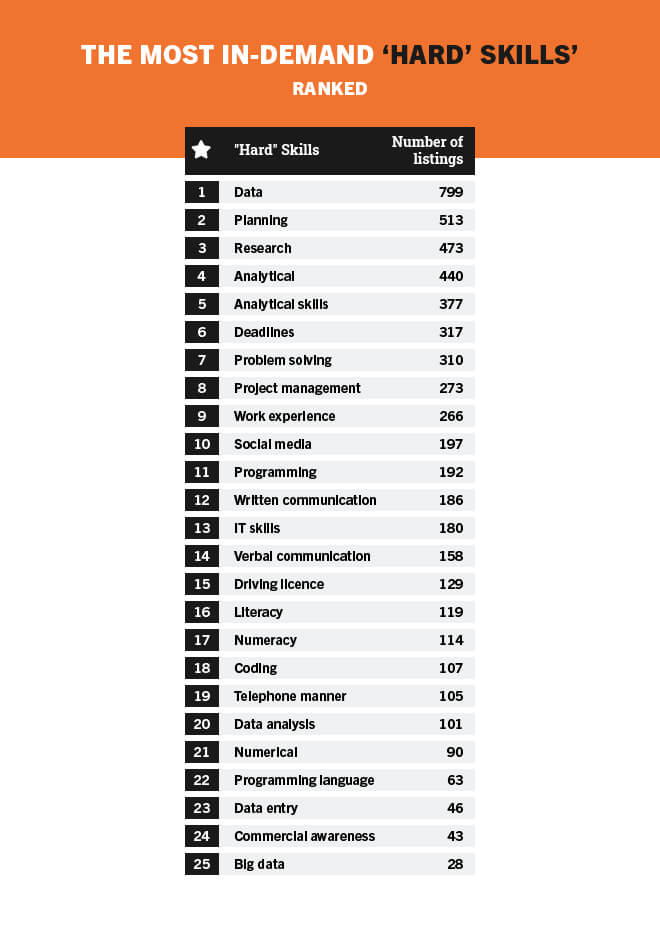 The most in-demand programs
Good IT skills are important in pretty much all jobs to some extent these days, so we also took a look at which specific software programs employers are looking for you to have experience with.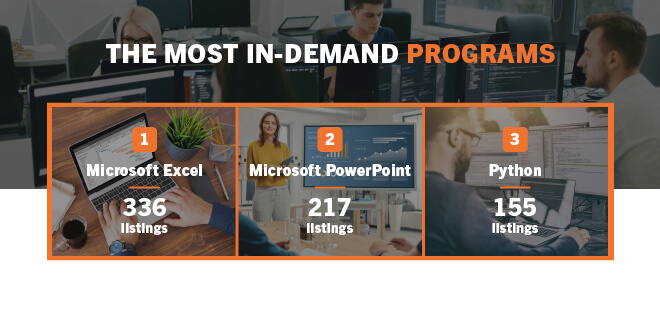 Microsoft Excel – 336 listings
For many of us, Microsoft Excel is something that we haven't used since IT lessons at school, but there's a reason that it's on the curriculum, and that's because it gets used in so many workplaces, alongside the G Suite equivalent, Google Sheets.
You probably either love or hate spreadsheets, but being able to carry out the very basics will make your life a lot easier and make you a much more attractive candidate.
Microsoft PowerPoint – 217 listings
Another one which might take you back to school days, PowerPoint is a very valuable tool for creating presentations, whether that's to clients, or internally.
While there are lots of fancy features and tools to Microsoft's slide sharing app, even just a basic understanding of how to put something together should stand you in good stead with employers.
Python – 155 listings
This is one that's definitely more specialised and won't be required in the majority of roles, but the fact that 155 job listings on our site mention Python shows that programming is an increasingly important skill in the modern workplace.
Python is a programming language and one of the easiest for newbies to pick up. You'll probably already know already if you're going to need it in your job, but it's definitely a handy one to have in the bag.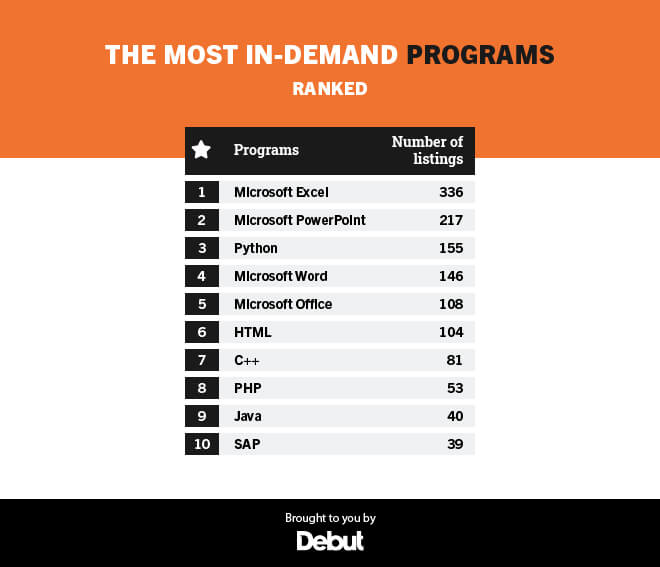 Methodology
All figures are based on jobs listed at Debut, as of January 14th 2021. Note that we combined some similar keywords when searching the listings, for example, "team work" and "team player".