Blog
Bloomberg employees work 'on purpose' but what does that really mean?
If you look at pictures of Bloomberg's offices what comes to mind is the use of space. Located between the Bank of England and St Paul's Cathedral, the Bloomberg office provides approximately 1.1 million square feet of sustainable office space. This includes three new public spaces, a retail…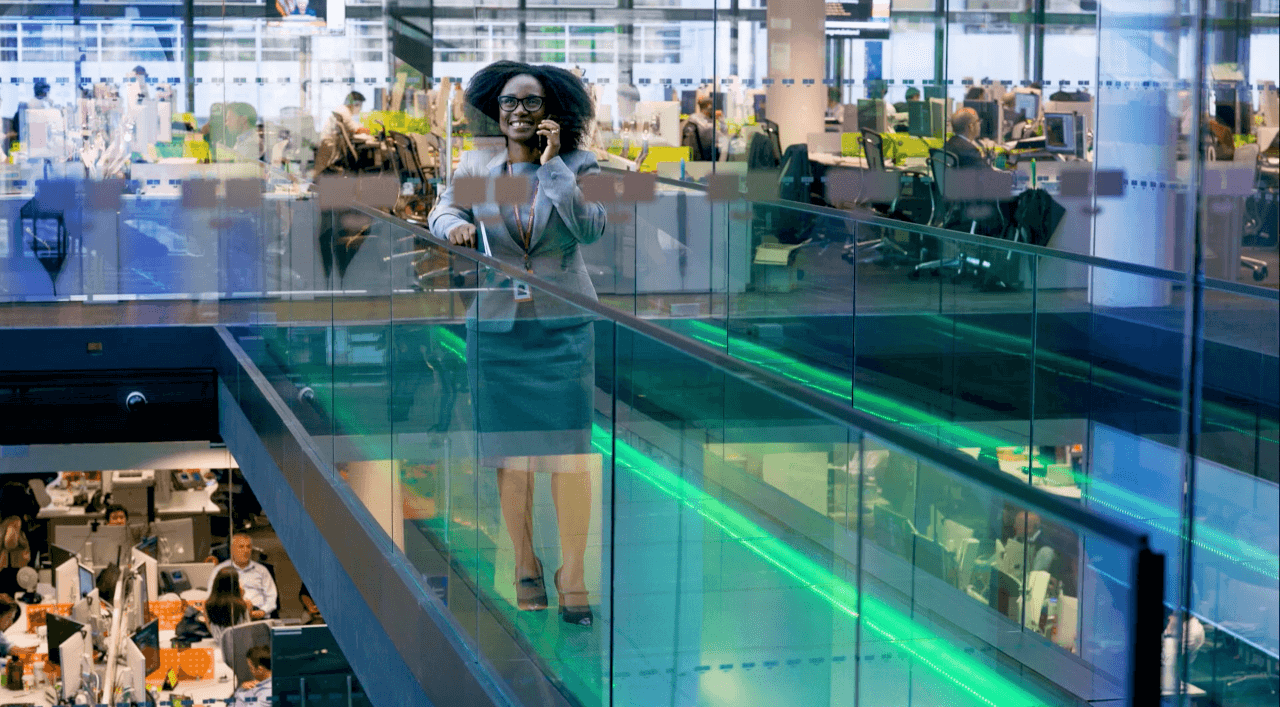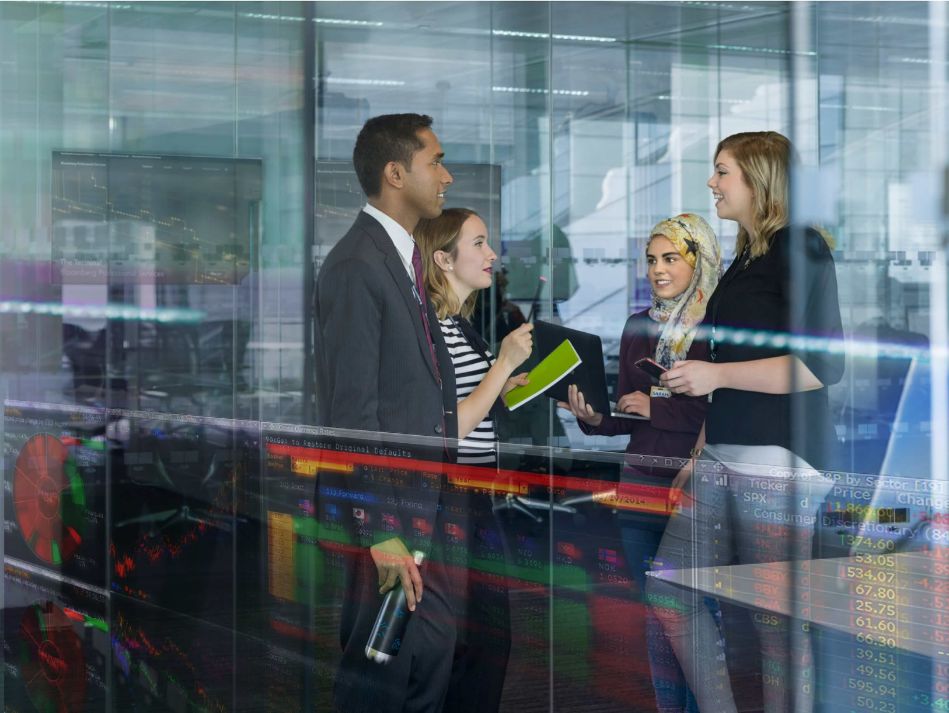 If you look at pictures of Bloomberg's offices what comes to mind is the use of space. Located between the Bank of England and St Paul's Cathedral, the Bloomberg office provides approximately 1.1 million square feet of sustainable office space. This includes three new public spaces, a retail area, and a Bloomberg Arcade that will reinstate an ancient Roman travel route and a cultural hub that restores the Temple of Mithras to its original site. We spoke to a few Bloomberg employees to get their insight into what it's like to work there, and their experiences are highlighted below.
Lisa Tucek, an Analytics Team leader who has worked at Bloomberg for almost six years, describes the office culture as "buzzing," "open," and "fast-paced." Contrarily, Morgan McKinnon-Snell, a Private Equity Specialist who has worked at Bloomberg for 18 months, describes the culture as "unlike any other setting [he] has worked in."
Bloomberg prides itself for having an open floor plan to establish a non-hierarchal culture. All employees sit in height-adjustable radial desks which are laid out in 'pods.' The sense among employees is that "we are measured by our contributions, not by our titles." Working collaboratively is strongly encouraged, and "we love to share ideas over a free snack or coffee in our well-stocked pantries."
When Lisa was asked how working in a non-hierarchal environment affects her work on a day-to-day basis, she stated that communication is easier and she is able to get more work done. She explains, "sometimes it is as easy as sending a message or instant-chat to a colleague in another office to resolve a long-standing issue." She can also "walk up to a manager on the floor to think through an idea."
According to Veronica, a Bloomberg Customer Support employee of three years, the office is "a place where your innovative ideas can be heard and implemented." At Bloomberg, there is a culture of open communication which allows information to flow easily. This in turn speeds up innovation.
The company's ethos of working 'on purpose,' relates to finding a sense of meaning in the work they do, taking pride in their work, and having a job they enjoy.
At Bloomberg, you will do meaningful work while working with cutting edge technology. "Bloomberg is such a multi-faceted company," explains Lisa. "Whether it is structuring and making sense of data using programming language, designing the look & feel of our product, to solving the most complex questions on our products or pitching our solutions to a prospective clients – there is rarely any skill or area interest that cannot lead to a long-term career at Bloomberg."
For Morgan, working 'on purpose' means "having a reason to work or a goal is what keeps me motivated." He adds, "working on purpose is about acknowledging that everything you do is for a reason."
I asked Lisa, Morgan, and Veronica what they'd been up to at work today.
Veronica begun her day with "a lovely fresh coffee from the buzzy pantry." She then checked if all the people in the projects she is involved in with were in before greeting and chatting with a few colleagues and talking through the days interviews with a Team Leader. "Throughout the day, I assisted users in three different languages with software and login issues as well as with the installation of licenses. New Hires were able to understand the procedures, and started taking their first calls independently."
For Lisa, "no day at Bloomberg is the same." She details, "my daily staples are ensuring my team has all the necessary resources and information in the morning so they are set up to succeed in their client interactions and goals for the day." She also works closely with the Product & Sales teams.
Morgan said he tries to prepare for everything because life at Bloomberg "is busy and varied," and as such the best approach is to "always be ready and organised."
"It's a very fast paced environment!" agrees Lisa, "Whilst it can be challenging, it has meant that I was given the opportunity to continuously develop personally & professionally throughout my career including different leadership assignments and appointments overseas." She also enjoys working with very driven people at the company and enabling them to achieve their potential.
Morgan enjoys interacting with clients, working on strategy and product development, whereas Veronica finds fulfilment through "working with the New Hires" because it means that she's able to "pass on [her] knowledge to the new starters and provide them with guidance in the beginning of their journey at Bloomberg."
In addition to having a sense of purpose at the heart of its company ethos, Bloomberg runs an extensive volunteer programme for employees. This programme allows them to try new things, meet new people and collaborate with communities and employees in ways they might not otherwise have the opportunity to do so. "Whilst we are a results-driven company, it has always been a key motivating factor for me that my employer ultimately looks to give back to society," says Lisa.
Veronica has been involved with projects such as "Reading and Maths Mentoring" in schools as well as "Homeless Christmas Gift Packaging" and a school theatre trip. For Morgan, it was "gardening, cleaning canals" and "baking cakes for families with terminally ill children" that appealed.
Lisa has worked with AgeUK, been involved with an "evening soup run" and has done "StartUp Mentoring". Participating in Bloomberg's volunteering programme has been "a very humbling experience" She explains, but one that was "hugely rewarding."
For Morgan, volunteering gave him a sense of fulfilment while helping him to meet people from all walks of life, both within and outside of the company. For Veronica, volunteering "helped my psychological well-being and developed my interpersonal skills" and she adds that the experience "makes me feel my actions have a real purpose and meaning" both to herself and "the community as a whole."
You can find out more about working for Bloomberg here. Information on the company volunteer programme can also be found on this page.
Bloomberg are recruiting now! Take a look at the below vacancies and follow the link to apply.
Global Data
Financial Products and Sales
Business Customer Support
Customer Support – German or Russian Speaker
Customer Support – Spanish, French, Portuguese, Italian Speaker