The computer science industry is filled with amazing career opportunities, but why aren't more women studying this subject? Join Debut to find out...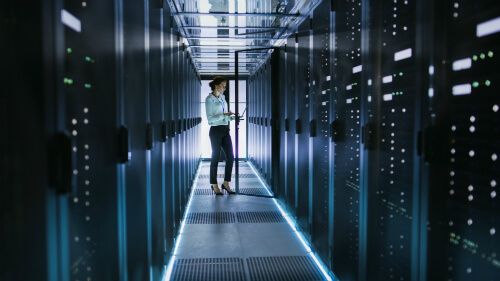 Within the graduate job market lies a gold mine. An area full of opportunities yet lacking in the candidates it needs. What are we talking about? Women with a computer science background, of course.
It's no secret that technology is a massively male-dominated sector. Even on Debut there are 2,000 more men studying a computer science-based subject than women, and they send around four times the amount of job applications within the app.
But rest assured, IT companies are on the hunt for more women to come in and climb the ranks. However, if recent studies are anything to go by, they may struggle with a shortage of candidates.
New research from The Knowledge Academy has demonstrated that this shortage comes from a gender disparity within the number of students who choose a computer science-based subject as their degree. Like a domino effect, fewer female students equal fewer female graduates, and consequently the graduate job sector becomes unevenly balanced.
In 2017, 67,885 men enrolled on a computer science course, making it the third most popular subject area for men overall. Contrastingly, only 12,115 women enrolled for this subject, making it the fourth least popular subject overall for their gender. This begs the question: Why are fewer women opting to study a computer science degree than men?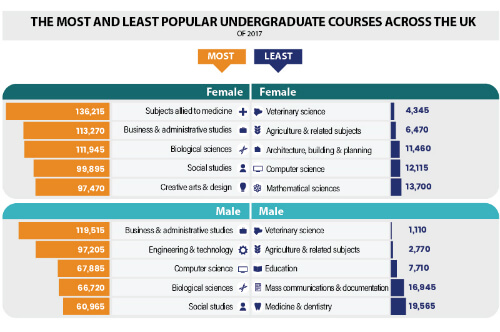 Our previous insight article indicates that young girls lose interest in STEM subjects around the age of 15, mainly due to a lack of inspirational female role models in the industry. A lack of enthusiasm for these subjects demonstrated early in their education will naturally impact the number of female students going on to study such a subject at sixth form, nevermind university.
Now, this isn't to say that there are no women working in computer science that teenagers could aspire to. Recently there has been a significant increase in prominent female figures with a computer science background, moving up to senior and managerial levels within businesses. You only have to look at our own Women in Tech events held at Debut HQ to see there is an appetite and interest from entry-level talent for roles, opportunities and guidance in this industry.
The problem, we believe, lies within a lack of acknowledgement from schools that they need to work harder to engage girls in computer science subjects. If they do, this should in theory address the imbalance further down. If girls don't choose STEM A-level subjects, they will be shutting down opportunities in computer science before they've even manifested.
So what kinds of things can employers and schools be doing to engage women earlier on? Well Suzy Style, Head of Graduate Recruitment at BP, shared what they do in our recent DebutLive. She states that they work "with teachers to educate them about courses and careers." By doing so, education professionals can have an impact on emerging talent and build a larger foundation for businesses to choose from.
Perhaps it's also a negative conception of the industry itself that is turning people off. With the IT sector having a large gender pay gap in the UK (with a 25% gap in the high-tech sector specifically), many younger students may only take notice of these figures, promoted heavily in the mainstream media. And no wonder, as our own research also indicates that 59% of females would feel uncomfortable applying to a company with a high gender pay gap.
It's not common knowledge that many businesses are working to close the pay gap and create new opportunities for women. We recently interviewed several female employees at EY, who discussed the various groups that the company have designed to press for gender equality. This includes the Women. Fast Forward online resource, which pushes for equal pay with their campaign #PressForProgress. This project also highlights the company's encouragement of others to push for a better future for women in tech.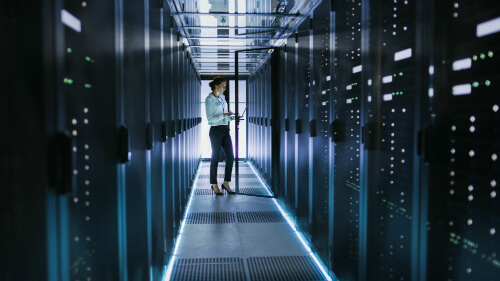 Organisations are also examining the ways in which this employment gap can change; ComputerScience.org includes a whole section on this subject, stressing that if action isn't taken, the majority of positions in IT will continue to be filled by men despite the fact there is a projected rise in the number of jobs available in the field during the coming years.
Some suggested solutions include introducing mentoring schemes with successful female professionals. Others included investigating how STEM subjects are taught to females to see if a more equal learning environment can be created.
Non-profit organisations such as Girls Who Code work with large businesses to offer summer camps, classes and workshops for young students to gain first-hand experience in this sector. It's not just a work-experience opportunity. It's a chance to focus on the benefits of a career in computer science in a new way.
Groups such as this are setting an example for others. Therefore, both businesses and schools should be questioning what else they can do to engage young girls in this manner. After all, if you start off a trend now, you'll ultimately make a big difference in the years to come.
Perhaps what is also not being considered when it comes to computer science jobs are the personal opportunities that females can take advantage of. Research from Honeypot lists the international countries with the most opportunities for female STEM graduates to gain an equally-paid role.
This data could indicate that females who are looking for a job abroad would have a great wealth of opportunity in the computer science and tech industry. We can attest to this, with an account from Karimah Campbell, eDiscovery Manage from EY. She decided to choose her role because the company is "a global firm and I'd have the chance to travel".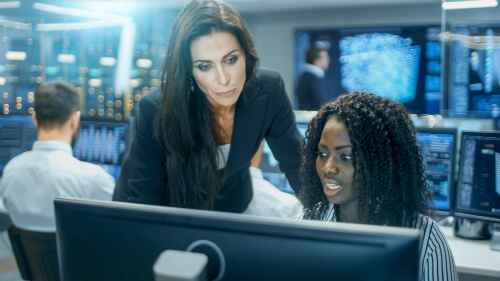 So, in summary how can more female students and graduates be encouraged to work in the computer science world? Well, it's by engaging people much earlier on, to generate interest at an early age.
Recent research conducted by Brand Potential International demonstrates that 39% of computer science students start searching for careers before university. In addition, these students were the largest segment of any subject area that started looking at jobs so early in their education.
This reaffirms that opportunities and encouragement towards STEM should target more sixth-form students. This may result in a candidate that knows a job's responsibilities and values at an early age.
In addition, other engaging elements of pursuing a career in computer science should be promoted more. The career opportunities that await future female computer science students; the chance to combine work with travel; the opportunity to move into more managerial and senior roles… Lots of exciting opportunities are available, and the next cohort of digital professionals need to be made aware of it.
There is no time like the present to start forming these connections. Women of the current generation immerse themselves in technology in their everyday lives. This is why schools should be highlighting the ways girls can pursue this path full-time.
Now is the time for change!
Download Debut and connect with us on Facebook, Twitter and LinkedIn for more careers insights.