The rise of unconditional offers make it seem like getting into university is easier than ever. But are standards are slipping? We dig deeper.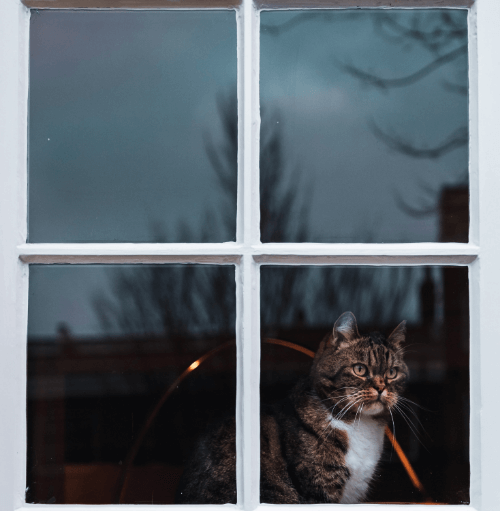 This article was written by an external contributor, Jem Collins. Jem is a digital journalist and editor who focuses on human rights and careers. She's the founding editor of Journo Resources, a non-profit which helps people get into the media industry, and the strategic impact director of RightsInfo. You can also follow her on Twitter, she'd like that.
We've all heard the drill – it was much harder in their day. Whether it comes from your nan, Dave from the corner shop, or the actual Education Secretary, apparently getting into university is now a doddle. Whether it's so-called 'grade inflation' or a rise in unconditional offers there's no shortage of hot takes on why your hard earned achievements aren't all they're cracked up to be.
When you look at the facts it's easy to see where these theories come from. Research from UCAS themselves has found that as many as one in three prospective students are now getting unconditional offers, a percentage which has been rising since 2013. Record numbers of students were placed during clearing during 2018, and some 26.4 percent of A Level students achieved A* or As, slightly up on the year before. But these aren't the only numbers you should be looking at.
A perfect storm of biology & Brexit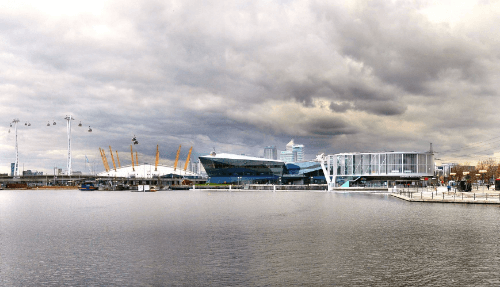 Yep, still just as weird two decades on. (Image Credit: Robert Pittman / Flickr)
Picture the scene. It's 2001 and the world is slowly returning to normal – the millennium bug wasn't real, we've accepted that no one will ever understand the design of the Millenium Dome, and that Green Day will be our musical overlords forever. However, at the same time, something really weird is happening, with birth rates dipping by some 200,000, the lowest point since 1977.
"Our evidence shows that the number of births in a year is largely driven by the number of women of childbearing age in the population at that time," explains Nick Stripe, the head of health analysis and life events at the Office for National Statistics. "During the 1990s and the early 2000s, the number of births steadily declined as there were fewer women in that age range. This followed a similar decline in births from the end of the baby boom period in the mid 1960s to the late 1970s."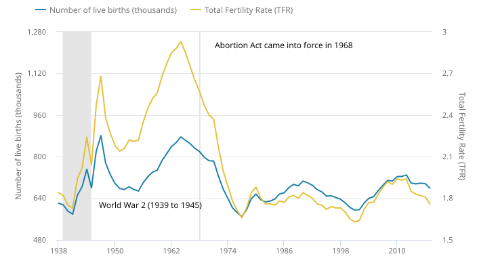 The end of the baby boom had a knock on effect. (Image Credit: Office for National Statistics)
In short, the end of the baby boom meant that twenty years on there were fewer women about who wanted to have children. Fast forward to the knock on effect today, and there are fewer 18-year-olds to even consider applying for university – and that's not the only problem. As Brexit preparations rumble on, applications from EU students are falling dramatically for some courses, with some universities predicting a drop off of up to 60 percent in student numbers.
'I didn't expect an unconditional offer at all'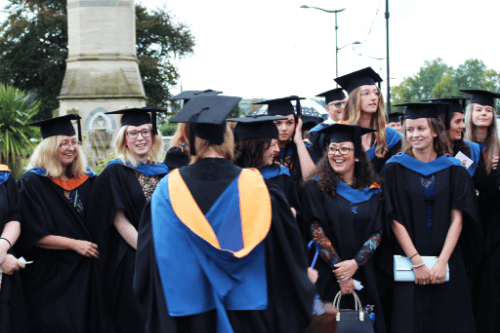 2019 could be a good year to start your studies (Image Credit: Journo Resources / Flickr)
If you're thinking this could bode well for your university ambitions, you might be right. "We need every good student we can get right now," one university professor told Debut Careers. However, this doesn't necessarily mean that courses are getting easier to get into – but a smaller pool of great candidates does leave universities fighting to secure the best students.
During the past 12 months there's been a surge in unconditional offers made by universities, with one in three applicants being promised a place regardless of their A Level results. While the majority of these offers were found to come from a core group of just 20 universities, the list does includes Russell Group institutions such as the University of Birmingham and the University of Nottingham.
For Sofia, who has just been accepted onto a fashion promotion course at the University for the Creative Arts, an unconditional offer was completely unexpected. Had the thought even crossed her mind? "Not at all," she tells Debut. "I always thought the smart kids got unconditional offers. It does take the pressure off".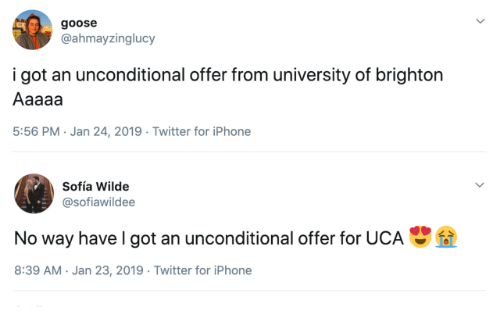 Many students have taken to Twitter to express their surprise at getting an unconditional offer. (Image Credit: Twitter)
Similarly for Lucy, she "didn't really expect" an unconditional offer to study film production at the University of Brighton. "I was pretty sure my grades weren't up to the standards of the universities I applied for, but wanted to try anyway," she explains. "It felt pretty fabulous [to get the offer] but it isn't from either of my top choices, still it's comforting to know that if things don't work out with my top choices I've got a definite place somewhere else."
From a university's perspective, unconditional offers can play an important role in their admissions process. A spokesperson from the University of Portsmouth told Debut Careers that well designed offer schemes "can help reduce the stress that young people feel at examination time, and enable universities to form a holistic judgement about young people's potential commitment, and ambition."
They also noted research showing that more than half of 18-year-olds missed their predicted grades by two or more grades, and that any student who achieves or exceeds their predicted grades will receive a scholarship of ВЈ1,000. "The university found that in both 2017 and 2018, young people to whom we made unconditional offers were more likely to attain their predicted grades than applicants to whom we made conditional offers."
Similarly, a spokesperson from the University of Birmingham, while stressing that such offers played a small part of their admissions strategy, said students who were given unconditional offers "do not experience an attainment gap" and "are among the best performing group when they join us".
A growing entrepreneurial spirit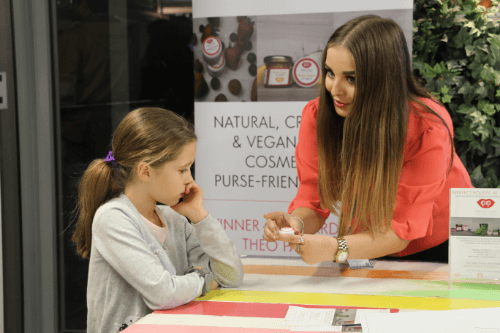 Rose Dyson weighted up her options and decided university wasn't for her (Image Credit: Rose Dyson)
Even putting aside hard data around admissions, for some, there's a growing sense that Generation Z (those roughly born between 1995 and 2000) might be looking at different priorities. One recent survey found that some 78 percent of 16-24-year-olds wanted to run their own business when they were a child, while of the 57.3 million people freelancing, almost half were under 34, meaning that younger people are making up the bulk of the freelance workforce. What's more, almost three quarters of those Generation Z freelancers said it was a career choice, not a move made out of necessity.
For Rose Dyson, the 19-year-old founder of beauty brand Pura Cosmetics, rejecting university for her own business plans was the obvious choice. "I didn't need any grades to get into my own business," she tells Debut Careers. "I did have the option to go to university and that was obviously an option that I considered and looked around a few. But I was like, 'what do I like about studying?' Not much, I could be doing what I absolutely adore."
Since making the decision to go full time, she's secured thousands of pounds worth of investment, is in the process of fitting out her own premises, and has been named the UK National Young Trader of the Year – all after starting out with just a ВЈ25 investment as part of a school competition aged 15.
"When you're younger you're in the best position to start your own business because you've got no mortgage, no kids, no bills, nothing like that, and you've got much more freedom," she adds. "I'm only a few months into [doing this full-time] and I can't remember what it was like going to sixth form because I love it doing this so much."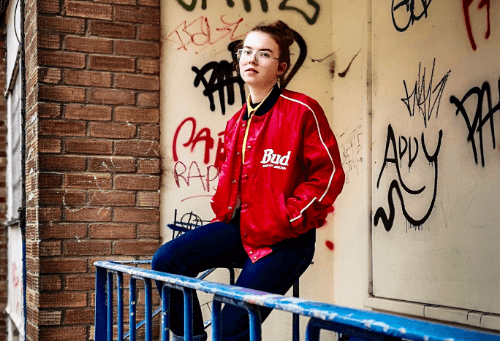 Rosie Dearlove also bypassed university to set up her own vintage clothes business. (Image Credit: Rosie Dearlove)
Similarly for Rosie Dearlove, 18, going to university just wasn't the right choice. "One of the main aims in setting up Slayyy Vintage was to work on something I enjoyed. After fishing through lists of all the university courses across the country nothing really excited me other than being my own boss," she says of her decision to start a vintage clothing retailer.
"Committing to education for another three years doing something I didn't care about definitely didn't seem fun. Shopping in charity shops and vintage fashion was a passion of mine, after doing some research into fast fashion and the impacts into the environment." Now, six months on, she's had 65 online sales with an overall profit margin of 60 percent, and plans to expand into a physical presence in Norwich market during the coming summer months.
An important decision – and a small window of opportunity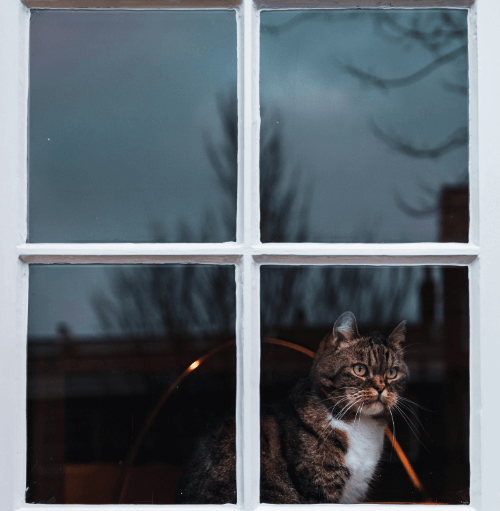 This feline has spotted her window of opportunity. (Image Credit: Serhat Beyakaya / Unsplash)
Going – or not going – to university is an important life decision for any of us. However, if there's one thing that nan and Dave from the corner shop should know, it's that there are a lot of different things playing into university admissions policies.
There's nothing to prove that it's getting academically easier to be accepted to university, but there's plenty to suggest that the real competition within the mysterious behemoth that is UCAS is between universities themselves. And, as they battle to attract the best people, there's a unique opportunity for talented people to get exactly what they want.
However, as with all good things, they must come to an end. 2001 (and the hype of Green Day) have come to pass, with birth rates – and next year's uni applicants – steadily climbing since. Equally, with a Brexit deadline looming ever nearer, there's not much more time left for us to put off the reality of whatever might actually happen with that. In short, if you think university might be your thing, it's time to get cracking.
Download Debut and connect with us on Facebook, Twitter and LinkedIn for more careers insights.