The banking industry can get a hard rep. Many people perceive it to be full of people in sharp suits coming and going from intimidating buildings, but in 2018 this isn't the case - in fact diversity, growth and innovation are rife within the banking sector.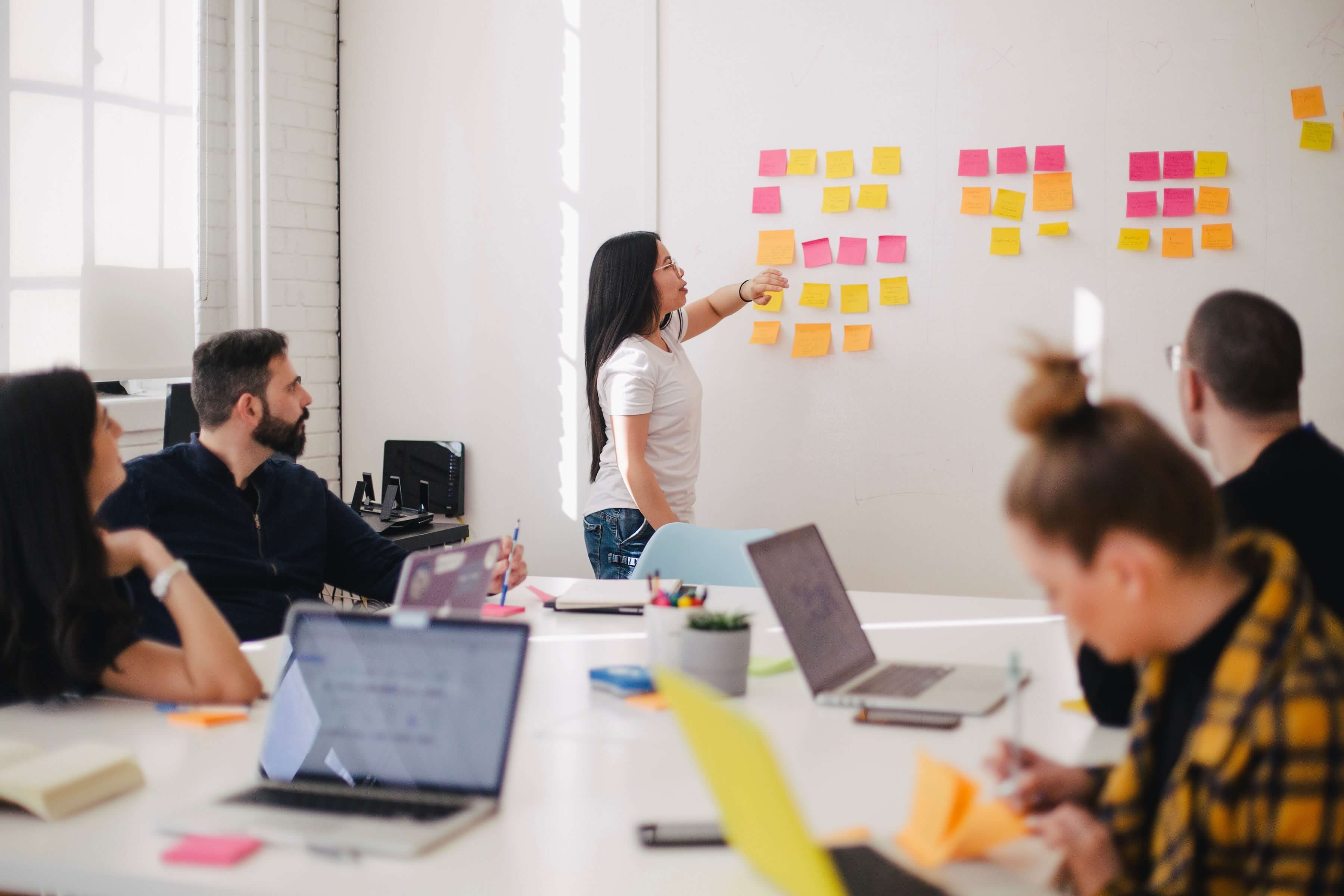 The banking industry can get a hard rep. Many people perceive it to be full of people in sharp suits coming and going from intimidating buildings, but in 2019 this isn't the case – in fact diversity, growth and innovation are rife within the banking sector, particularly at HSBC.
And this was exactly what they popped by to discuss. In their latest DebutLive, Charlotte Leer, Emerging Talent Recruitment Manager, and Claudia Evans, Retail Banking and Wealth Management Graduate, opened up about HSBC's amazing opportunities and what the bank is doing to help change perceptions of the industry. Check out the clip of their DebutLive below, or watch the whole stream via the DebutLive tab on the app.
As usual we were inundated with questions, but Charlotte and Claudia have taken the time to answer all remaining questions below.
Would knowledge of other modern languages be beneficial?
It won't put you at any advantage over other students from an application perspective, however we are a global organisation and knowing additional languages can only help you get better connected with your colleagues.
A lot of banks outsource legal work to large firms, what in house opportunities are there for law students?
Our graduate and internship programmes are not sector specific, therefore unfortunately we do not have a dedicated programme for legal students. Our programmes aim to give you a broad range of knowledge and experience across the bank through the various placements including: leadership, product, customer and more.
If you're looking to maximise your learning, what opportunities are there to get involved in projects outside of the core roles of your rotations? Do you think getting involved in extra projects would benefit or hinder your success in your role?
Within the graduate programme there are lots of opportunities to get involved in a range of different projects and we do our best to align you to areas that will interest or develop you whilst you are with us.
Do you have any tips for students who are applying for a job in finance, but have a background in a different department?
Apply! We do not discriminate against people with specific degree subjects and welcome applications from students who have studied outside of the finance sector. You will be given all the tools, knowledge and experience you need to be successful here at HSBC
What is the most important thing you can do to prepare yourself for life within HSBC if you haven't experienced it through an internship?
We will pair you up with a "Buddy" who will help you before and during your time with us here at HSBC. You will also be invited to a Facebook group which aims at introducing students to each other prior to joining us. My advice would be to really make the most of these opportunities!
What is the social life like amongst the graduates at HSBC? What are some of your funniest experiences whilst on the programme?
The social life on scheme is very active, and very varied! We have done a whole variety of different things, ranging from a 300m inflatable obstacle course, ghetto golf, going to watch local football teams play (against my better judgement) and in the next few weeks we have a 1920s murder mystery coming up!
The key is that it's not just about socialising with the people you're already friends with, but also people across the cohorts and different business areas – it's just a great way to let your hair down with people who know what it's like to be a grad.
What careers within HSBC are available to people with a 2:2?
Our criteria for Internships and Graduate Programmes are 2:1 predicted/achieved, but if you don't meet that criteria it doesn't mean you can't apply for roles outside of emerging talent. The bank recruits for 1000's of positions a year, therefore I would encourage you to take a look at our website to see what opportunities are available at your level if HSBC is the company you wish to work for.
Are grades an important factor when applying?
Our entry criteria for both our graduate and internship programmes is 2:1 predicted/achieved, 300 UCAS points (on old UCAS system) across your top three A level subjects, excluding general studies.
What goals do you set for yourself not only for the whole grad scheme, but in each individual rotation?
Each rotation has a different aim, but it really depends on what you want to get. My personal objectives have ranged from simply learning about the business, understanding the true responsibilities of a line manager, how to develop people and also to ensure that I get involved in as many of the extra-curricular activities as possible.
How is performance evaluated and how is feedback given at HSBC?
Your performance is constantly evaluated and there is a really positive feedback culture. You are encouraged to ask for feedback from stakeholders, managers, and anyone you interact with at all times, but 360 feedback is particularly important at the end of each placement.
We use a model which outlines the positives, and also what would be even better for next time – that way you are always developing new skills and improving your performance.
What has been the most interesting project you have worked on in HSBC?
I have been involved in so many different projects it's difficult to choose! The most rewarding, and the one I could see the impact of most clearly, was writing, creating and piloting a new workshop to help new starters working in the branches and on the phones. This has an impact on their training, and their future actions throughout their careers with the bank.
What is your favourite thing about HSBC?
The people!
What are other activities apart from the graduate scheme, that HSBC has provided graduates with?
Outside the grad scheme there are so many opportunities – I don't have enough space here! As a team of grads, we renovated a garden for a disabled child so he could get outside. It was hands-down the most difficult day's work I have ever done, but his face at the end made it all worth it. The extra-curriculars include organising and running the internships, mentoring students in the local community, organising development events for grads, and so much more!
How would you describe the culture in HSBC in one sentence?
A global inclusive business which provides an environment for everyone to flourish.
During interviews, are you expected to know a lot about finance?
We have changed the way we recruit this year and have moved towards a strengths based approach which means we will be assessing you based on your core values and behaviours, rather than your finance knowledge. That doesn't mean to say you shouldn't read up on HSBC and the wider finance industry before assessment centre, however!
How is technology impacting HSBC? And given that, what will the next 5 years as an employee/grad look like?
Technology is ever-changing, and so we need to keep ahead of the 'next big thing' to ensure we are prepared and can provide the best products to our customers. I think, as a grad, it is really important to understand what is coming and what is happening, but most importantly, what the customer wants. Going forwards, I think there will be a much greater focus on digital – it's a really exciting time to be joining!
Can you give us more information about the assessment centre?
Without giving too much away, you will be taken through a series of exercises aligned to the business you have applied for. The exercises are aimed at analysing your behaviour and cognitive abilities through interactive and pitch style exercises. Watch out for some additional Webex style presentations which HSBC will be running in the summer…
What advice would you give about researching a company?
Start with the website, reach out to colleagues on LinkedIn to see what their roles look like and how they describe working for HSBC. Read up on the news and the wider industry so you can see how that links to the work we do at HSBC.
Strength based questions are still shrouded in mystery. How do I answer such a question in a way that is not shallow?
The questions you will be asked will be around your opinion or view on something, therefore if you are providing an open and honest answer I don't think that could come across as shallow. Be yourself would be my advice.
To what degree can interns move into another role as an analyst if they are given an offer? For example, if someone does a summer internship in DCM, could they end up doing a full time role in FIG?
We do not allow candidates to move programmes. The reasons being that each programme is really different and we expect candidates to have thoroughly researched the area of the business they have applied for and be confident it aligns with their career aspirations. The online immersive assessment also helps to give you a better understanding of the role and area of the business you have applied to.
What tips would you give to grads applying?
Don't wait until the last minute! We offer places on a first come, first served basis, therefore if you are interested in opportunities with HSBC apply as soon as we go live – which should be around September 2019.
Connect with Debut on Facebook, Twitter, and LinkedIn for more careers insights.