We at Debut love pairing you with your dream job with our AMAZING app (nice, subtle plug there). This time, we're doing it by passing along this once-in-a-lifetime opportunity.
You see time is running out to apply for an insane position that just opened up in Cambridge. They're looking for a Professor of Lego.
Yup. The Lego Foundation are giving the University of Cambridge £2.5 million to fund the new position. Not only that, but they've provided an additional £1.5 million to build a state-of-the-art play research centre in the university's education facility.
Yes, we imagine plenty of 'research' will go on in there. Look at this neat spaceship I built. Y'know, for 'research'.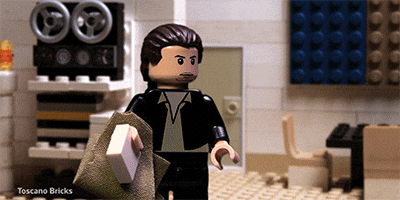 Oh, and did I mention that the successful applicant will earn a cool £84,000?
If that sounds like your bag, all you have to do is be ludicrously highly qualified. According to the job description, the university is after someone with an "outstanding research record of international stature and the vision, leadership, experience and enthusiasm".
It's actually quite serious
Really though… according to the university itself, the aim of the game is to ensure "children are equipped with 21st century skills like problem solving, team work and self-control". And not a moment too soon, tbh.
With all the wacky things we've been hearing about young people being miserable and not being engaged in the workplace, this research could be crucial.
Updated research on the importance of play and playfulness to children could be just the antidote for this crisis.  We need to be reaching the next generation early so that they know the importance of happiness to their development.
It's definitely important to Cambridge – they've been advertising the position since 2015. Last year, they also advertised for a Professor of Chocolate. You do you, Cambridge. Don't listen to the haters. And when you wanna advertise a position like this again, please let us put it on the app!
Download the
Debut app
and get Talent-Spotted by amazing graduate employers!
Connect with Debut on Facebook and Twitter