Do you feel prepared for the real world? You may feel fairly prepared. However, in reality, your education may not have provided the skills you need to be a successful student.
The latest findings from the World Economic Forum (WEF) explores the current gap between the skills we learn and the skills we need. Their report, New Vision for Education: Fostering Social and Emotional Learning through Technology hypothesizes that traditional learning has failed to equip students with the knowledge they need to survive and thrive in the real world.
What are the skills you need to be a successful student? 
According to the WEF, you need a combination of traditional skills and something called 'social and emotional learning' (SEL). This is the ability to collaborate, communicate and solve problems. A student needs these skills to  navigate the evolving digital economy with ease.
The WEF identified 16 key skills across three different areas.
Foundational literacies – how students apply core skills to everyday tasks
Competencies – how students approach complex challenges
Character qualities – how students approach their changing environment
The 16 key skills you need
Across the three areas, the key skills identified are:
Foundational Literacies
Literacy
Numeracy
Scientific literacy
Information and communications technology literacy
Financial literacy
Cultural and civic literacy
Competencies
Critical-thinking/problem-solving
Creativity
Communication
Collaboration
Character qualities
Curiosity
Initiative
Persistence/grit
Adaptability
Leadership
Social and cultural awareness
Why are these skills important?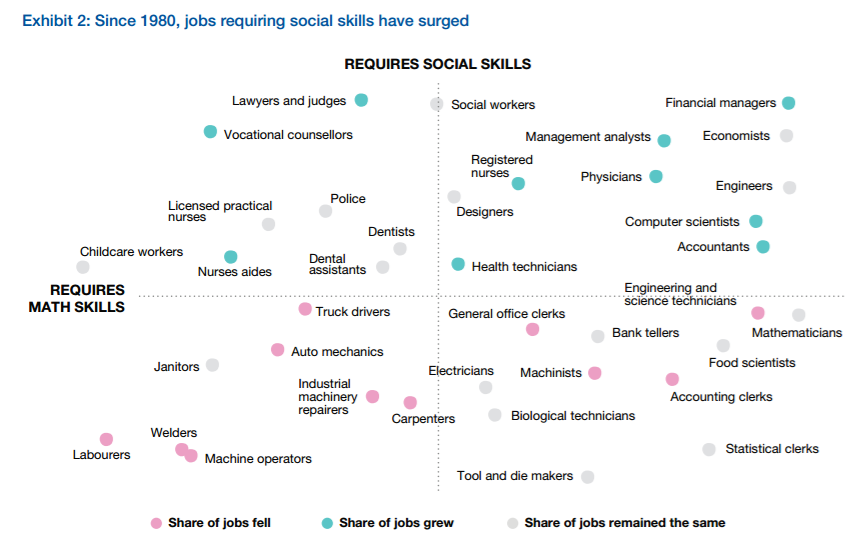 Frankly, these skills are crucial for dealing with a rapidly changing workplace. According to Professor David J. Deming of Harvard University, the bulk of job growth in the US has been in occupations requiring high social skills. In fact, this has been the case since 1980. (Refer to the graph above – the green dots are the ones noting which jobs grew.)
Here's a crazy fact: a projected 65% of children entering junior school will work in jobs that don't even exist in our present. Further research theorizes future jobs will rely on creativity, initiative, and adaptability, as well as the ability to process and convey complicated information. SEL will help the members of the future workplace deal with all  of these rapid changes with ease.
The future aside, these skills are also important for your current education. In 2011, a meta-analysis was run analysing 213 separate studies involving over 270,000 students from kindergarten to high school. It found that SEL promoted a whole host of benefits. Students who received SEL instruction had their achievement scores average 11 percentile points higher than those who did not.
The downside to all this? It's hard to make teachers and lecturers incorporate SEL into their current teaching framework. The general university education is traditionally made up of soul-crushing lectures and seminars. Therefore, it's up to us to do some serious self-reflection in order to improve these skills on our own.
Further reading
You don't have to do it on your own though. Here are our best bits of advice on how to improve your current skills. We write articles daily on how to help you do so. If there's anything you really want to know, hit us up at @DebutCareers on Twitter and tell us!
Connect with Debut on Facebook, Twitter and LinkedIn for more careers insights.