This article was written in collaboration with Police Now. Explore exclusive graduate and undergraduate opportunities at Police Now by downloading the Debut app.
You've probably never considered a policing graduate job if you're as diametrically opposed to fresh air and exercise as I am. That's why I'm writing this from my nice, safe desk in lavish Debut HQ.
But it doesn't have to be like this for you. If you want a job that's challenging, different every day and helps your community, being an officer on the Police Now programme can provide you with just that. And if you don't want to remain in the police afterwards, it sets up you up quite nicely for pretty much anything else. We talked to Police Now to find out where a policing graduate job can take you after you're done.
Law
How many would-be lawyers out there can say that they've actually got their hands dirty and enforced the law? A bit of face-to-face involvement will give you a better understanding of the needs and challenges of law enforcement as well as the impact it has on the public.
Police Now says: "Working in collaboration with other public service institutions, Police Now participants will see for themselves the intricate balance between proposed legislation and its practicality and enforceability."
Business
What skills do you need as an entrepreneur? Well, decision-making in intense situations is crucial. As is leading people in difficult circumstances. Negotiating under pressure? Communicating with people who don't want to listen? Absolutely.
Here's the kicker: those are all things you learn while policing. Oftentimes, in situations with much higher stakes. After you've done that for two years, there's nothing the business world can throw at you that you won't be ready for.
Police Now says: "From dealing with child custody cases with abusive parents at 2am; de-escalating a domestic violence situation; to working a shift twice as long as it should have been, you will gain an incredible wealth of skills that can be applied to other situations."
Banking
Forget the mechanics of it all for a sec. When you work in banking, there'll be plenty of times where you need to keep a cool head, make good judgements and work long hours. There's no better field to prepare you for that than policing.
Police Now says: "Police Now participants learn essential skills in negotiation, decision-making, emotional intelligence, resilience and leadership. These skills are transferable to any profession and prized by organisations in many sectors."
Politics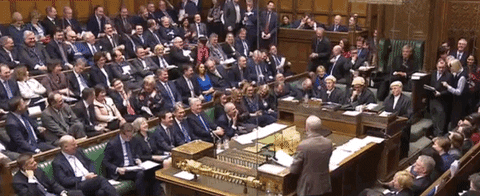 Think you'd make a difference in the Home Office? Police Now partners with them directly. Working in the communities you actively hope to improve will give you a much-needed leg-up on all the career politicians out there.
Whether as a police officer or a politician, you're working as a public servant. Therefore, a close understanding of the people you're working for is vital if you wanna be the next Prime Minister.
Police Now says: " We have around 15 secondments with the Home Office this year. We also work with DEFRA. The softer skills developed through the scheme should not be underestimated – resilience, emotional intelligence and courage are incredibly valuable skills in all work places."
Consulting
Policing requires a huge amount of knowledge. But it's not just about that. It's about applying that knowledge to make a given situation better. That pretty much hits what consultants do right on the nose. They use the benefit of their knowledge to help businesses be the best they can be.
Police Now says: Obviously, our pals at Police Now see the similarities too. They've got a bunch of partnerships with the world's biggest firms working in consultancy. They tell us, "We are currently working with Accenture, Deloitte, KPMG, and PA Consulting." That's quite a list.
Charity work
The most important part of policing is giving back to the community. If you've ever considered dedicating your life to improve the lives of those less fortunate, consider doing so with a policing grad scheme like Police Now. They do more than enforce the law. They look at the root problems causing crime and deprivation in communities and work alongside them to make a difference.
Police Now says: "The focus of Police Now participants' work is to make a disproportionate positive impact in neighbourhoods. We have secondments with The Centre for Social Justice (CSJ) which was established as an independent think-tank in 2004 to put social justice at the heart of British politics and make policy recommendations to tackle the root causes of poverty.  Police Now is committed to public service in one of Britain's toughest jobs to increase life chances for people from deprived backgrounds." Well said, guys, well said.
Connect with Debut on Facebook and Twitter