It's easy to let yourself get swept up in the drama of your final year at university. You've got a roller coaster of emotions ahead of you; from your dissertation and final exams, to the parties and inevitable goodbyes. One thing that's easy to lose track of? Getting a job. Look, you're not in any worse of a position if you graduate without a job offer pending. It's not a competition. However, if you find yourself twiddling your thumbs feeling FOMO as your friends head off on their graduate scheme adventures, this is the list for you. Limber up, because it's time to finally get serious about your job search after graduation.
1. Google yourself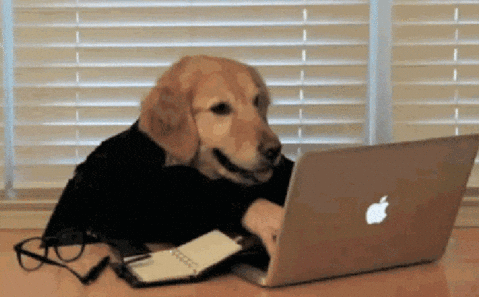 First things first: an audit of your web presence is probably in order. We trust you all to have the sense not to publish über-drunken photos on Facebook anymore (I mean, that's like, so 2009.) Consider this instead: the second Internet crime you could be making is not having a Google-able enough presence.
To edge against your fellow recent graduate competition, you probably want to have your skills and achievements easily found on the Internet. There are a few ways to do this. Social media is one of them, so we'd advise that you set up at least one public social network.  LinkedIn is great for a permanent one-stop-shop for all things to do with your past experience, whilst Twitter is great for showing off your personality. The other way? You could level up by building your own personal website.
2. Build your own personal website
Seems like a huge ask, but trust us when we say building a website isn't as difficult as it seems. Pre-built templates on free services like Tumblr or WordPress can definitely go a long way. If you want to level up, a Squarespace subscription is not too pricey, but use your discretion when it comes to your budget.
The baseline investment you need to make is purchasing your own domain name. This can vary in price and availability, but services like GoDaddy or Hover are fairly reasonable, with many domain names costing less than £10 a year. If you take away one thing from this point, take this: buy your domain name as soon as possible. They can disappear in a blink of an eye, and unfortunately once someone buys it, it's very difficult to buy it off them!
We've got loads more advice on digital skills in this article right here, if you need it.
3. Research and record
If you'd asked me what I wanted to do for my career when I was a final-year student, I probably would have imploded in fear. Hardly anyone really knows, and it's a ton of pressure to come out with a coherent answer when put on the spot. If you've been freaking out about what you want to do post-uni, take a breather, and get to Googlin'.
It's so important to take a few sessions and figure out a few career paths that could suit your experience and personality. Note how we say 'career path' rather than 'job' – it's important to try to envision what the next three to five years is going to look like for you. The next step is to do a ton of research. Job descriptions can give you information you need about what the employer is looking for.  What it doesn't tell you is what the job will be like for you. Head over to Glassdoor for anonymous company reviews from current or past employees, and try to look for any blogs on their company website about employee experience.
One more step? Make a ton of notes. Your research on jobs and career paths need to have your own opinions attached to it. What are the pros and cons? Have you spoken to anyone at that company personally? What does career progression look like? Even if there are questions you can't answer through a quick web search, you can always keep them as things you can ask during the job interview. 
4. Get commercially aware
Commercial awareness isn't just a buzzword for potential lawyers. It's actually a great habit to inculcate at university before you join the big, wide world – and it'll make you look hella impressive to potential employers. According to research by the AGR, more than 70% of employers are looking for candidates with strong commercial awareness. However, only 15% of candidates can actually demonstrate this! Eep.
Once you've identified the industries you might want to work in after you graduate, you have to become a bonafide know-it-all about them. Start reading industry-specific publications (with a dictionary around, because no matter how clued up you are, there will no doubt be terms you're unfamiliar with). Follow relevant influencers in those industries on LinkedIn and Twitter to keep up with the latest insights. Most importantly, read widely. It's so important to burst your current information bubble by reading a variety of newspapers rather than a single source.
Commercial awareness can make you look insanely employable. Why? Because it shows that you care deeply about the industry and will be quick to adapt to any new, industry-specific information you may come across in a job. However, it can't be achieved overnight. Start this process now and you'll be able to build your awareness over time.
5. Network. Like. Mad.
You know how you've been meaning to go to those events your department puts on with industry partners? Go. To. Them. Meeting an employer face-to-face is the best way to gauge whether there's a good fit. Take it as a controlled way to make a good first impression. There's less pressure on you at a networking event, because their attention isn't focused solely on you. However, if you do manage to have a conversation, there's a better chance you'll be remembered for your charm if you get an interview with them later.
Now, networking is nothing without the follow-up. Don't just chuck those business cards in a dusty corner. Wait a day or two, then email your new acquaintance asking for a coffee, or even just to say it was nice to meet them. It's the little things that make the most impact.
6. Find a professional mentor in the industry
We here at Debut will always try our best to give you the best careers advice we can give. However, sometimes you just need advice that's just a little more bespoke.
If your department at university advertises any formal mentor-ship schemes, we advise that you give them a shot. However, that's just a good starting point, as they can be quite hit and miss depending on the scheme and university. Really, it's your networking that could get you places. You probably shouldn't cold-email someone to ask if they can be your mentor – you'll probably get ignored! Instead, it's important to build a relationship with your potential mentor first before you take the leap.
The best candidates for potential mentors are people you may have even worked with in the past. If you managed to get some work experience in a company you liked, perhaps email your manager there to ask him or her for advice. They will be more likely to understand your personality and work ethic, and would be able to give you careers advice that suits you better.
7. Don't just leave your application hanging
Understandably, you may have thought that firing off hundreds of generic job applications is the key to getting a job. Unfortunately, the job search isn't a numbers game. You can't just 'swipe right' on employers blindly – you may end up not getting many replies at all.
Make sure each job application has been meticulously tracked. Set up an Excel spreadsheet to have a helicopter view of your job applications – who has replied, who hasn't, and who you need to follow-up with. If a job application is getting cold (as in, you haven't had a reply in a few weeks), it's worth writing a short, polite email to your potential employer to check in, and to offer up any extra information they may need if they want more convincing. Each job application you send out needs to have an equal weighting of your care. You never know which one you might be signing on the dotted line for.
8. Add your job search to your schedule
Our last tip on getting truly serious about your job search? Carving out a consistent time to look for jobs during your week. Put some time aside in your calendar and make it a recurring event. Make sure you spend at least that time every week looking for a job.
The best advice I've been given when it comes to looking for a job after graduation is to treat the job search like it's a 9-5 in itself. After all, you only get as much out of it as you put in.
Download the
Debut app
and get Talent-Spotted by amazing graduate employers!
Connect with Debut on Facebook and Twitter