This piece was written by our resident writer Alex Ekong. Read on for his thoughts on how how we should reasess our interview expectations:
Success. A lot is made of success and successful people. Every profile of a self-made multi-millionaire is a rose-tinted picture of having a dream and making it reality in the face of adversity. And that adversity is only ever mentioned in passing.
It's cute, sure. But hackneyed stories about how Bill Gates and Mark Zuckerberg were college dropouts and how Steve Jobs was once fired from the company he founded simply aren't going to blanket-motivate us any more. We all have different influences. We all have different heroes.
When I need to make sense of the world, I turn to my lord and saviour – Hollywood. A large part of my personality is based on my ability to flawlessly recite Simpsons quotes, grime lyrics and cult films. Here's a quote by Fight Club's Tyler Durden that struck me: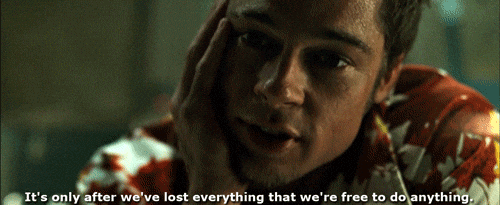 Image via Giphy
This really resonated with me. Particularly as I was transitioning from the relative frying pan of final year at university to the proverbial flame grill of the job hunt – gulp.
Here was Tyler Durden, the roguish anti-hero at the center of David Fincher's 1999 cult hit Fight Club (a strangely useful film for careers.) He's a degenerate thief and domestic terrorist living in a dilapidated house in the toxic waste part of a major American city. By all rights,  Tyler is an abject failure (albeit ably portrayed by a young, impossibly chiseled Brad Pitt.)
Image via 20th Century Fox
Although both hallmarks of the go-go 1990s, suffice to say Tyler Durden seems a very different beast to Bill Gates. But in truth, they're two sides of the same coin.
Tyler applied his anti-success rhetoric to blowing up your worldly possessions, peeing in soups and burning people's hands with lye. But he inadvertently taught us an important lesson. If I may bastardise another Durden-ism: it's important to know – not fear – know that you're going to make mistakes. Two things happens when you do:
You make better plans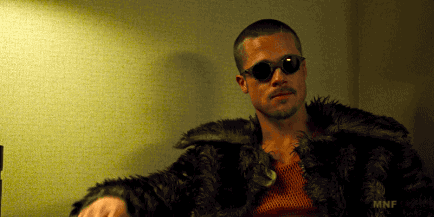 Image via Giphy
Even the best of us mess up. It's human and we can't help it. Master manipulator Tyler, however, always knew what was next for Project Mayhem even if no-one else did. This is the key. The sooner you embrace the inevitability of messing up, the sooner you can plan for it.
You line up your interviews, careers events, networking opportunities and keep your options open. You aim to do something every day that gets you to where you want to go. Organising all of this doesn't even have to take all that long. In fact, the Muse says you can do it in 10 hours.
That way, you never blow your interview without having something in the pipeline that keeps you moving. And even if you do blow it, remember Robert Allen's sage words.
'There is no failure, only feedback'.
You either win or you learn and if you don't win, your plans become sharper the next time around.
You get a newfound confidence
Let's be real here. The people that think they're crazy enough to change the world are usually the ones that do, whether it's making a splash in the careers world or destroying a financial district to restore the world to a primitive hunter-gatherer society.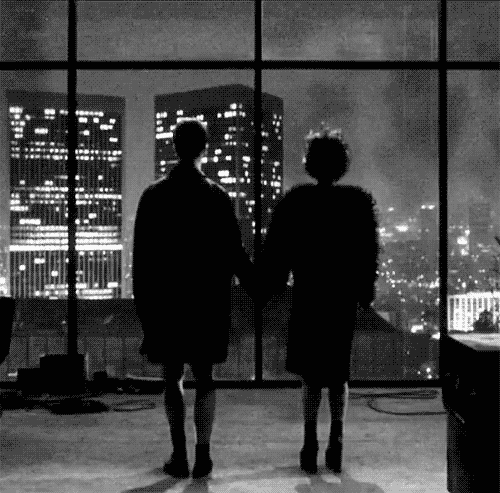 Image via Giphy
Being prepared to fail means approaching careers challenges with the kind of unabashed bravery that comes with having nothing to lose.
You definitely start believing that nothing is too big or too small, too far or too near for you to try. In fact, the Guardian's Graham Snowdon believes that casting your net wide and applying to unconventional places is the tonic for long, arduous job search. What better way to test your fledgling sense of fearlessness?
If you're still hitting walls, American entrepreneur Bill Ellermeyer recommends you to take time out to reassess. "Don't take your downers to the outside world," he advises. In that time, you can round out your personality with some hobbies. Firms, after all, love to hire people as opposed to drones. Be more than a worker, be a resource. 
It's just like Tyler said: "You're not your job."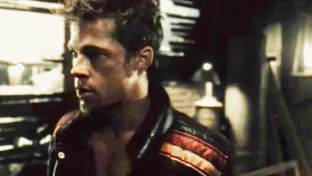 Image via Giphy
So basically…
That's why you should go to an interview prepared to fail. Because with every setback comes experience and you don't want to die without any scars. If you've just graduated, you're at a point where there's endless possibilities laid out in front of you. At this point, failure doesn't lead to a dead end but another path, another glowing opportunity. With the right codes and keys, there's nothing to stop you seizing that opportunity. There's your epiphany. You didn't even have to get knocked out in a basement to get it.
Featured image © 20th Century Fox
Download the
Debut app
and you could totally grab yourself a summer internship 
way
before anyone else.
Follow Alex on Twitter @AndThenAlexSaid
Connect with Debut on Facebook and Twitter