Working in marketing can be an exciting pick 'n mix. Not only do you get to think creatively about new ways to promote your products (imagine being in the team behind the Chewits dinosaur, for example, legends), but you also get to see the very tangible results of your efforts.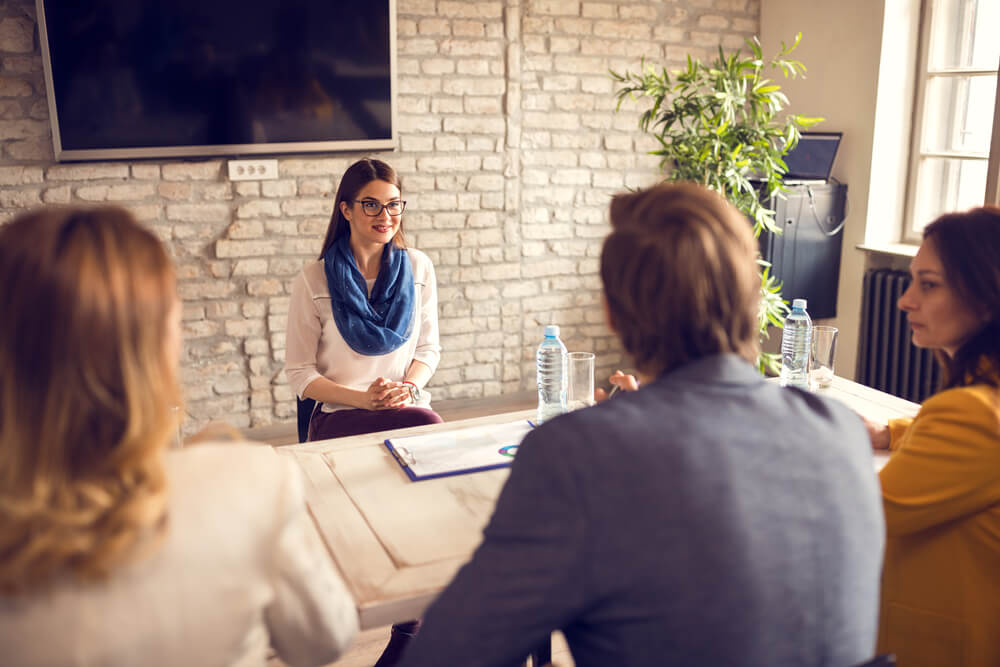 Working in marketing can be an exciting pick 'n mix. Not only do you get to think creatively about new ways to promote your products (imagine being in the team behind the Chewits dinosaur, for example, legends), but you also get to see the very tangible results of your efforts.
Marketing teams often work really closely with the sales team – it might sound like an odd pairing, but when you realise the whole point of marketing is to get more people to buy your stuff, it actually makes perfect sense. And, by looking at the sales data, you're able to see just how many Chewit people bought because they saw your dinosaur.
But, just how do you get started with a career in marketing? It's a broad and competitive industry, and sometimes it's tricky to know which door you should be even be knocking on in the first place.
To give you a bit of a steer, here's our full guide to breaking into the industry – and it's even more detailed than those instructions Lara Croft uses to somehow find the island of Yamatai off the coast of Hong Kong. Okay, we might be hyping it up ever so slightly. That was pretty darn impressive.
Knowing What Area Of Marketing You're Interested In
First things first, it's important to know what kind of area of marketing you're actually interested in. It's a huge playing field, and, as with anything, it pays to sit down and work out what you want to do first.
While the skillsets hiring managers are looking for will certainly overlap, to give yourself the best chance of snagging the job you want you'll need to tailor your skills and experience from the start, so it's worth thinking now about the kind of stuff you want to do.
Marketing Jobs
We've written about the differences between marketing and other disciplines in depth here but the main thing you need to know is that if you're looking to work in straight marketing, it's all about the overarching strategy.
Jobs in this category include stuff like marketing executives, market researchers, product managers and sales promotion account executives. It's your job to think big about the strategy of your products, conducting market research, working out target customers, and deciding what needs to happen to reach more people.
Traditionally, you'll be working in house as part of a marketing team, and there are opportunities for both graduate schemes or apprenticeships if you're looking to work your way up.
Digital Marketing Jobs
Jobs in digital marketing are broadly across the same kind of stuff as those described as purely "marketing". In reality, it's the same kind of stuff but for people who are looking to specialise in the digital world of social media, websites, apps, and other interactive content.
You'll still be involved in strategy and big thinking, but you'll also be tasked with thinking creatively about how to get involved with new networks, and how your message can successfully translate across a whole range of different platforms.
In terms of job titles, you're looking at stuff like digital copywriters, digital marketers, SEO specialists, and web or social managers. Again, most companies are likely to have a digital marketing team in-house, however, there are a growing number of digital agencies who work across a number of clients to provide specialist digital support.
Advertising Jobs
Advertising can go across so many levels – it's the adverts you huff at when they appear in the middle of watching something on ITV Hub, they're the slightly shonky jingles you hear on the local radio station, and they're the printed adverts you see on a billboard and in magazines.
Generally, advertising teams are a couple of steps removed from the main marketing teams. You'll probably be working for an agency who has a number of different companies as clients, and you'll be putting together creative responses to their briefs.
In terms of career progression, you'll be working your way up from a marketing assistant to job titles like art director or creative director, or you might choose to work as an account executive or planner.
PR Jobs
The final piece of the marketing puzzle, PR is slightly different to other marketing disciplines in that rather than just buying coverage for your product, you actually earn it by building relationships with journalists and sending newsworthy stories.
You might work in-house or for an agency, but your role will be to think creatively and proactively about the types of stories you could tease out of your brand, before writing these up into multimedia press releases and opportunities to send out. Rather than focusing purely on sales as your output, you'll be looking at the number of coverage you've generated.
Usually, graduates will start out as a PR assistant or a junior PR officer, before moving your way up the ranks or going freelance and starting your own consultancy.
Choosing The Right Degree – Or Pulling Out The Relevant Bits
Once you've settled on the type of marketing you're looking to get into, you can use that information to decide what kind of degree you should be gunning for.
Or, if you've already started a degree, it's still worth thinking about what are the most relevant strands to pick out for your CV, applications, and interviews.
The good news is that there's no yellow brick road you absolutely need to follow here, with a number of degrees offering excellent ways into marketing.
You might also see a lot of hype about having to have an MBA or a masters – take it from us, this isn't a set rule, and you can absolutely dive straight in after your undergraduate degree.
Business & Marketing Degrees
There are a huge range of degrees specifically focused on marketing across the UK, available as both undergraduate and postgraduate degrees.
Generally, you'll be looking at the basics of marketing principles, the basics of business management, and strategic thinking.
Even if you're studying a straight business degree, it's a great introduction to the world of marketing. As we mentioned earlier, marketing is all about selling at the end of the day, and to do that well you absolutely need to know the basics of business.
Media & Journalism
Especially if you're looking to go into the more creative side of marketing, a media or journalism degree is a great place to start.
Learning the basics of a good story, what connects and engages people, and being able to think creatively about how to make a story work across multiple platforms is an important part of marketing.
If you're looking to go into PR in particular, it's worth checking if your degree is accredited by the National Council for the Training of Journalists. It's widely considered the standard for journalists, and as a result is a massive bonus for PR hiring managers too, as you'll really be able to understand the kind of stuff journalists are looking for in a press release.
TV, Film And Creative Media Production
Finally, if you're looking for a career in the creative side of advertising, there's also a lot to be learnt from TV and film production degrees as well.
While these types of degrees tend to focus on feature film and TV series production, you can find degrees which offer a focus on creative media production.
And, even if you've set off down the path of film production before you realised advertising was where you wanted to be, there's a lot you can draw across in terms of creative production.
Consider Professional Qualifications As Well
As well, as your degree, it's also worth thinking about the professional qualifications valued by the industry, which include:
All of these bodies offer slightly different qualifications, so it's worth taking your time to look at the ones that are most relevant to you and where you're looking to get too – honestly, no one is expecting you to collect the whole set and be the best there ever was.
As well as offering short courses you can take to boost your candidacy, these bodies also tend to accredit university degrees as well, so if you're still at the point of deciding where to study, it's worth taking a look through to see if you can knock off two points at the same time.
Finally, when you're looking for a job and deciding where is the best fit, looking at which companies will help you continue your learning is worth bearing in mind. Those which are actively invested in your development and training will usually give you the chance to continue your studies, with some bodies offering qualifications all the way up to postgraduate level.
The Key Skills You'll Need To Nail
So, you know where you're hoping to get too and you've got some qualifications under your belt too. But, before you go charging off and applying for gigs left right and centre, it's worth taking some time to understand the skills hiring managers are looking for.
In general, we'd advise taking to any job application with a highlighter before you even think about opening your CV. Personalisation is always the key to success, and you're looking to identify the key traits they're looking for and weave them into your application in a natural way that also reflects their tone and voice.
However, there are broadly a common set of skills most marketing bosses are looking for, so it's worth getting acquainted with them before it's time to apply for jobs, so you can help to stack up your experience across all areas.
Commercial Awareness
One of the biggest requirements for a successful career in marketing is to be able to understand the landscape your product sits in. You'll be expected to keep your finger on the pulse of consumer trends, understand target markets, and think critically about where your brand sits in line with other competitors.
As a student, try to keep on top of industry press in the areas you're keen to work in, as well as looking out for successful campaigns and the figures and numbers behind them. It sounds simple, but keeping on top of what's happening in the industry can help you talk confidently about your knowledge in an interview.
Equally, if you're putting together a portfolio of work, always make sure to include the commercial and strategic rationale behind your creative decisions. Make sure to explain how things like your target market, average spend, your positioning all tie into the final output – and if your campaign actually went live, make sure to talk about the results.
Creative Thinking
Tied in closely with your commercial know-how is the ability to think creatively. In some marketing roles, you'll be writing marketing copy yourself, but even in roles where you're taking a more strategic seat, you'll still be thinking about how to get your product out there in new and exciting ways.
Even when you're not working on a piece of creative directly, you'll probably still be involved in the briefing process for it, so you'll need to have a good track record of coming up with ideas that move things on in a different way, or bring the product to different audiences or formats.
A lot of this stuff will ultimately come down to your portfolio when you're applying for jobs, but it's also worth thinking about creativity within the lens of innovation. Think about times when you've done something differently, and how it helped the final product stand out.
Team Work
If you read our list earlier up to the page about all of the different types of marketing, it's pretty clear that you're very rarely a solo band, and the best results are indeed achieved when all the Avengers assemble. Even if you're only part of a small marketing team, you'll be working with external agencies and other parts of the business on a daily basis, and you'll need to be able to get along.
This is perhaps one of the easiest things to stack up on your application for a marketing job though – come armed with examples of times you've worked as a collective to pull together a project, whether during work experience, your degree, or as part of a society.
Think about how you dealt with difficult situations too – how did you manage competing interests and rifts? How did you make sure all members of the team knew the schedule and were on the same page? Basically, the more granular you can get the better.
Putting Together A CV & Application For Marketing
And then it actually comes to writing your application – which, if you've narrowed down what you're looking to get into and the skills you need, shouldn't be as hard as it sounds. Here are a couple of things to bear in mind.
Experience Over Education, Always
As an industry, marketing and the media more broadly always expects slightly more than just a degree. In order to succeed here, you'll need to have bagged at least a couple of bits of transferable experience.
This can be in many different forms though – whether it's a placement year as part of your degree, a week's work experience, voluntary help for a charity, or a more traditional placement, it all adds up.
Make sure you're listing your experience as the first major section on your CV after your name, contact details and any personal statement, and, as usual, it all goes in reverse chronological order.
Focus On The Actual Results You've Achieved
One of the biggest flaws we tend to see on media and marketing CVs over at Debut is people who either focus on the more trivial parts of what they did in a role, or completely forget to think about results at all.
In plain speak that means less talk about the dull stuff you did on work experience like making the tea or shadowing and more talk about the things you actually got to have a go at and the results that had.
For example, you could talk about how your market research led into a wider strategy or helped change direction, how a press release resulted in new coverage, or a digital campaign reading a certain number of new buyers.
Personalise It Every Single Time
It can be tempting to think that you've reached peak CV. You've polished and polished and polished until it would even make it through Willy Wonka's golden egg testing machine without any mishaps. Sadly though, the mission doesn't stop here.
Think of your CV as a base point to bring to each job application – something you'll tweak each time depending on the exact specifics of the job. Just like you wouldn't put in a standard cover letter for two jobs, you shouldn't be doing the same for CVs.
Sit down with the job advert beforehand and try to pull out the main strands they're looking for you to have experience of, and make sure these are front and centre on your CV, whether that's by tweaking your personal profile to lead them to the bits you want them to see most, or slightly changing the bullet points in your experience to emphasise a different angle.
The main thing you're trying to get across is that this application is tailored to the company you're putting it in for. Bosses want to feel like you're invested in their mission, not that they're one of many on a spreadsheet.
Prepare For The Interview Just As The CV
And, finally, if you've made it through to the interview stage, first things first, congrats! Even if you don't make it through to the final job, they're an important way to improve and learn, especially as we don't get to experience them very often.
Make sure you jot down any thoughts, questions you got asked or general feelings as soon as you leave the building, so you have a full record of how you felt at the time and how you tackled it. That way, you can use the notes later down the line to prep for further interviews, or remember what you said if you're coming back for a second stage.
Make Sure To Actually Prepare
The main thing to stress about the interview is that you should be putting in roughly the same amount of work as you did for your CV and application. At the very least, you should be re-reading your application to look for any potential pitfalls, as well as making sure you've got examples ready for all experiences you mentioned.
This aside, it's also worth re-reading the job description too, to see if there are any areas you didn't address the first time around, as well as doing some additional research on the company and the sector to get a feel for where they're going and any general themes in the space.
If you're not quite sure where to start, take a look at what comes up in Google News or some of the industry press when you search for the company or the CEOs name.
Make Sure To Be Qualitative About Success
As we mentioned earlier, marketing ultimately comes down to numbers and how much you've sold, so even if you've not worked on a live campaign, interviewers will be looking to see how you think.
When you're talking about the successes of any creative pieces of work you've put together, try to frame it in terms of numbers. For example, how many new people did you reach? What coverage did you generate? What was the watch time?
If you haven't actually put the campaign live, you can still talk about the things you would be benchmarking if you did. Yes, we know it's a creative job, but trust us when we say the numbers are here to help you.