For many of us, graduation isn't just about the opportunity to jump into the job market – it's also a chance to use our skills as a ticket right out of the country. For design students and recent grads, the temptation is bigger than James' Giant Peach…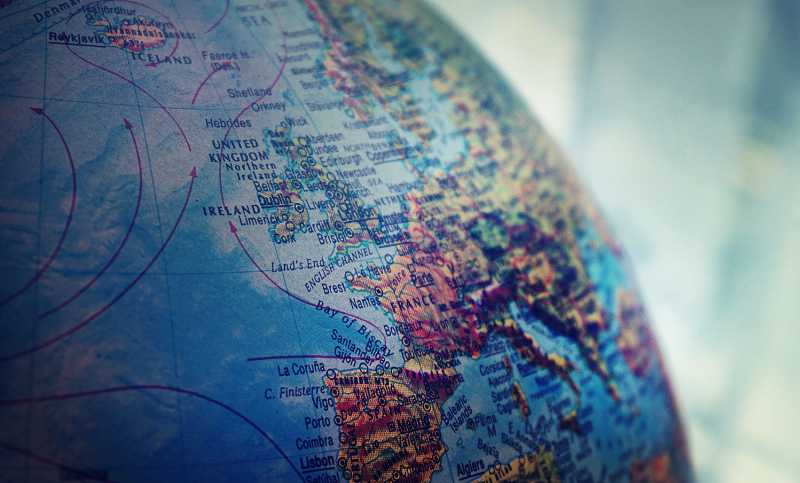 For many of us, graduation isn't just about the opportunity to jump into the job market – it's also a chance to use our skills as a ticket right out of the country.
For design students and recent grads, the temptation is bigger than James' Giant Peach – good graphic designers are needed the world over, so what's to stop you jumping onto the next plane?
Don't worry, we're not here to tell you shouldn't – but we do have a couple of things you should think about first. If you are looking at how to get a design job abroad, here are a few pointers to help you along your way.
Remember The Same Principles Apply Everywhere
While there may be a lot of cultural differences across the globe, the essence of hiring a designer is the same everywhere. Companies are looking for talented people with a history of producing good work. Yep, that's it.
It sounds obvious when you put it down on paper, but it does mean that you should take the time to make sure your portfolio and CV is as sparkly as it can be before hitting the road. It's a competitive job market, and just because you're heading abroad doesn't mean you should ignore the essentials. As well as making sure your portfolio has a good range of assets, it's also worth investing time in sprucing up your website and social media. Of course, LinkedIn is important, but design is a very visual medium, so employers will often expect an Instagram or Pinterest account too.
Especially if you're heading somewhere where you don't have any contacts or networks, you really need to be able to wow employers with your work history. Some countries have rules in place that mean companies have to prove they couldn't find equivalent talent in their own country so they can sponsor your visa too, so it's well worth taking the time to think about what you've got to offer and how best to showcase it.
Hone Into Exactly Where You Want To Work
Second on the list for designers who want to make it abroad is a clear vision about where you want to be and what you want to do. You're probably used to getting to the point for client briefs, but it's even more important for your own plans. The dream simply won't happen if you don't know exactly what you want – if you're serious about moving abroad, you'll need to have a roadmap.
We're talking about not only knowing the country you want to go to but which city and which companies are on your hitlist. In order to succeed, you need to get granular. Draw up a shortlist of your top three locations and really get stuck into looking at the job market there. Finding a job isn't easy, so you'll want a list of a dozen or so companies you're interested in for each option.
Work Out How You Can Actually Make It Happen
We don't want to come across all "admin department" here, but to get a designer job abroad, you do actually need to think about the logistics. Especially with Brexit looming on the horizon, it's important to know where you can work legally, and what you need in order to do so.
The Gov.uk website is as good a starting point as any and has oodles of details on any visa and tax requirements you'll have to hit if you're from the UK. Alternatively, Project Visa is an incredibly comprehensive list of the visa requirements for every single country in the world.
Where possible, you should apply for a working visa before you start applying for jobs – just like here in the UK, some companies may be unable to sponsor a visa, or they may want you to be able to start as soon as possible.
Think About How You Can Make The Move Now
A UK employer probably wouldn't give you a job without a face-to-face interview, so why would an employer abroad be any different? Especially at the start of your career, design graduates need to show they're willing and committed to make the move.
Sure, not everyone can afford to just up sticks and make a move, but there are things you can do. For example, there's nothing to stop you from building up a base of UK clients that will allow you to work remotely. You'll be able to make enough to pay the bills, while also being available for face to face interviews, networking events, or informal chats.
You could also consider switching things up for a while – temporary work such as in bars or schools can often be easier to come by. It might not be what you want to do in the long term, but it gets you in the country, which is a big step towards getting you into the room.
Start Networking And Researching Now
Even if you're not yet in the country, there's nothing to stop you from doing the groundwork on networking now. A simple Google search is all it takes to find relevant professional networks and events, and you'll often be able to find a bunch of people working in the area already.
Follow as many designers in your chosen country as you can find on social media, we promise it's not creepy. Usually, you'll find groups of designers chatting in little bubbles, especially on outlets like Instagram and Twitter.
Try to get involved in their conversations and get a feel for the industry they're working in. Not only is it a good way to get your name out there in advance, but they're much more likely to say yes to that coffee if you've already got a good online rapport.
In general, it's always worth remembering that the world is full of nice people, and design is no different. There's nothing to stop you from reaching out to people already working abroad to ask for advice – you'll often be pleasantly surprised at the response.